FAQ about Easy Redmine
About software
Who is Easy Redmine designed for?
Easy Redmine is a tool for anyone who deals with Redmine and projects: portfolio & project managers, SCRUM masters, IT managers, senior managers & C-level managers, team leaders, freelancers, small and big business owners. It is here to simplify your work and ensure efficient project delivery.
Is there any documentation for Easy Redmine?
What is the difference between consulting and customer support?
Consulting/implementation:
Paid service
Primary contact during implementation
System configuration based on customer requirements
Revision and reconfiguration for existing customers
Client training
Integration/data import/data migration
Custom development requests – analysis, testing, internal development project coordination
Customer support:
Primary technical service to clients:

Resolving basic technical issues (L1 support)
Online Chat – basic technical support
Resolving application outages
Client Zone troubleshooting and access issues
Resolving all error messages (error 500, 403, etc.)

Solving "where can I find" queries or queries related to general application settings
Providing a reference link to available documentation for comprehensive how-to questions
Assisting clients reporting bugs, custom branding, and custom development request
Assisting in case of client's server issues (paid service if Server Support L2 engagement is required)
Comparison of Easy Redmine with other PM apps?
Easy Redmine has all the features of the basic Redmine and many new plugins and improvements. Compared to other PM apps, Easy Redmine stands out with its on-premise installations (your server), Open Source licensing, extensibility and language localizations.
Most requested features are Resource Management, Easy Project Gantt and Global Gantt, WBS (visual mindmaps) and Help Desk
| | Easy Redmine | Clarizen | MS Project Server | Jira | Basecamp | Redmine |
| --- | --- | --- | --- | --- | --- | --- |
| Open source | | | | | | |
| Collaborative | | | | | | |
| Issue tracking | | | | | | |
| Resource management | | | | | | |
| Finance Management | | | | | | |
| Customer Management | | | | | | |
| WBS - visual mind maps | | | | | | |
| Platform | | | | | | |
I am already a Redmine user. Why and how should I upgrade?
Easy Redmine improves the basic user experience. The new design makes it easier to use Redmine both on desktop and mobile devices. Furthermore, it has all most wanted features that save time, improve team communication and make project management more enjoyable.
In addition to that, it is extensible and thus can support all business processes like Resource management, Agile development, Help Desk, Finance controlling and CRM. All these extensions are fully integrated together.
As a Redmine user, you can upgrade to Easy Redmine by installing Easy Redmine on your current Redmine installation.
Is Easy Redmine compatible with other third-parties Redmine plugins?
It depends on a particular plugin. However, our experience shows that it works with plugins compatible with the latest versions of Redmine. On the other hand, full functionality with every third-party-released plugin cannot be guaranteed from our side.
A list of tested and compatible plugins can be found here.
Note: We keep up-to-date with the latest Redmine updates and releases.
How is it between Redmine and Easy Redmine?
Easy Redmine is a complete and extensible Redmine upgrade. It is 100% Redmine compatible. It brings new & mobile design and the most wanted features, such as Easy Gantt, Global Gantt, project templates, dashboards, graphs & charts, chat and much more to your Redmine.
Easy Redmine works as a plugin for Redmine and is always compatible with the latest versions of Redmine.
All the improvements of Easy Redmine are described here.
Pricing and licenses
Switch from Cloud to Server solution? Is it possible?
Yes, it is possible. If you decide to move to your own servers, we will prepare a complete software package with a database for you.
However, you would have to purchase the Server license for Easy Redmine, since the Cloud solution is just a service.
It is the same with data from a Trial which you might like to keep after the purchase.
What kind of license does Easy Redmine have?
Easy Redmine is an Open Source software. It is licensed under GNU GPL 2 as stated here. By buying the software you obtain an installable package and the source code.
Server solution versus Cloud - how do they work?
Server solution
The server solution is designed for your own server (you host the software). By purchasing this solution you obtain installable software + the source code.
Cloud solution
The cloud solution is hosted on servers of Easy Software Ltd. in various locations. Easy Redmine Cloud has 20+ geolocations right now and more are coming soon. Please check the map of Easy Redmine cloud here. By purchasing this solution you obtain the right to use the software in the cloud for a defined period of time.
The cloud solution includes software updates for the whole hosted period.
Technical info
Updates for Server solution?
Updates are available for free for 3 months after the purchase. You can download them in the Client Zone where you obtain the access.
After 3 months of "free upgrades period", you may purchase updates at an additional cost.
How to go from a trial to a paid solution?
If you want to keep the settings and data from your trial version, just buy the solution you want and let us know (support@easyredmine.com) about your needs. Your Trial instance will be either backed up (Server solution) and delivered for installation or seamlessly moved to the client server (Cloud solution).
What are the parameters of the Server solution?
By purchasing Server solution of Easy Redmine you obtain an installable package of the software with the open source code.
License:
the software is licensed under GNU GPL 2 license
images, cascading style sheets, and included JavaScript are NOT GPL, and are released under the Easy Redmine Commercial Use License
Technical delivery:
installable software package
VMware image
Platforms:
it is platform independent - runs on Linux, Unix, Windows - via Virtualbox or VMWare player, OS X servers

I already have Easy Redmine installed. How do I check which version it is?
The version of Easy Redmine can be checked on a special page, which must be entered manually into the navigation bar (/admin/info). Scroll to the very bottom of the page, where you will find the number of your exact version.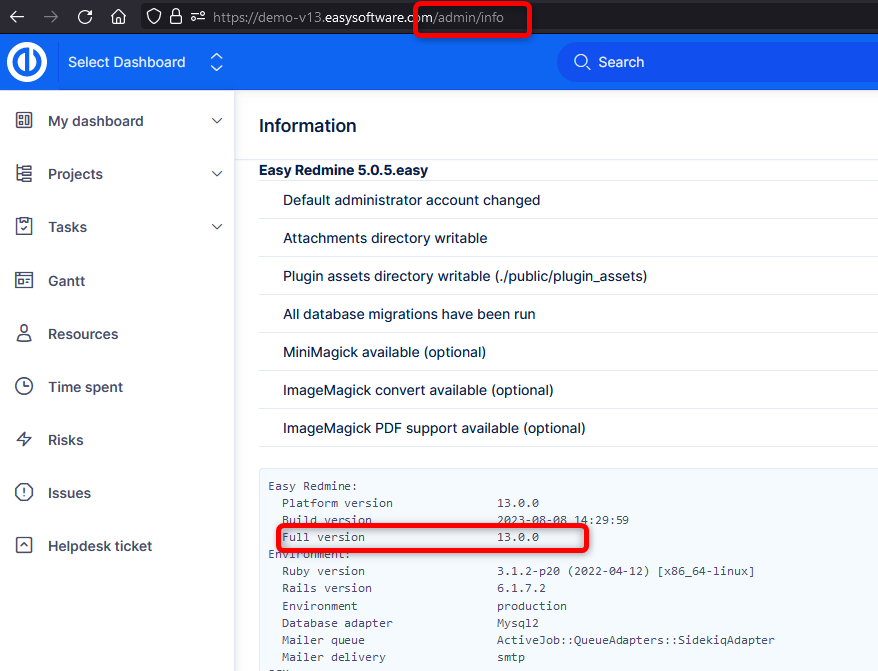 To explain the numbers:
First number - Generation (major version). By standard, you will notice it by the overall change of the GUI and CSS.
Examples of login pages from different generations:

Second number - minor version. Contains added features in comparison to the previous version.
Third number - bug fixing release (patch) within the minor version. It doesn't bring any new features, just fixes or optimizes the existing version.
Can I upgrade a currently running application?
No.
– Do not upgrade a currently running application. Before starting any upgrade inform your users about maintenance time and shutdown application server.
– Upgrade of live application may cause data loss - stop application server before you do an upgrade.
– We recommend for you do your upgrade by an authorized person (Linux administrator, server specialist or someone else).
Want to import your Redmine data into the Easy Redmine Cloud?
Before any migration can take place:
All third-party plugins must be uninstalled AND unmigrated from your Redmine. Just removing the plugin folder and restarting Redmine is insufficient, because the data structure is still modified.
Also, you need to remove all your own modifications from Redmine for the data to be importable. Easy Redmine requires Redmine to be in standard unmodified form.
How to prepare data for Easy Redmine Cloud:
MySQLdump of your Redmine

Easy Redmine in cloud supports only MySQL DB
The whole DB and all fields have to be in the UTF-8 coding page (utf8_general_ci)
InnoDB engine (MyISAM is not supported)
Command: $ mysqldump redmine --compact | gzip > redmine_dump.sql.gz

Files

We need to get folder files and their data
$ tar -czf redmine_files.tar.gz [redmine_root]/files
In other words:

Importing a database dump to Easy Redmine always completely replaces the previous data on that site, therefore it is not possible to import the data again and keep the "old"/"common" data on the site. In other words, once you imported the data in Easy Redmine, do not use both sites on production simultaneously, if you intend to make another import.
Old Redmine versions (lower than 3.x) need to be upgraded to Redmine 3.4.2. In general, older versions require additional steps which need to be consulted with support and may incur additional costs for migration services.