Unveiling Easy Redmine 13: Let your work flow
Easy Redmine 13 is here, bringing with it a wealth of enhanced features designed to improve project management efficiency. A modern facelift, Scrum Boards, a wiki-based Knowledge Base, and enhancements in Asset and Configuration management are just some of the exciting updates waiting for you in this latest version.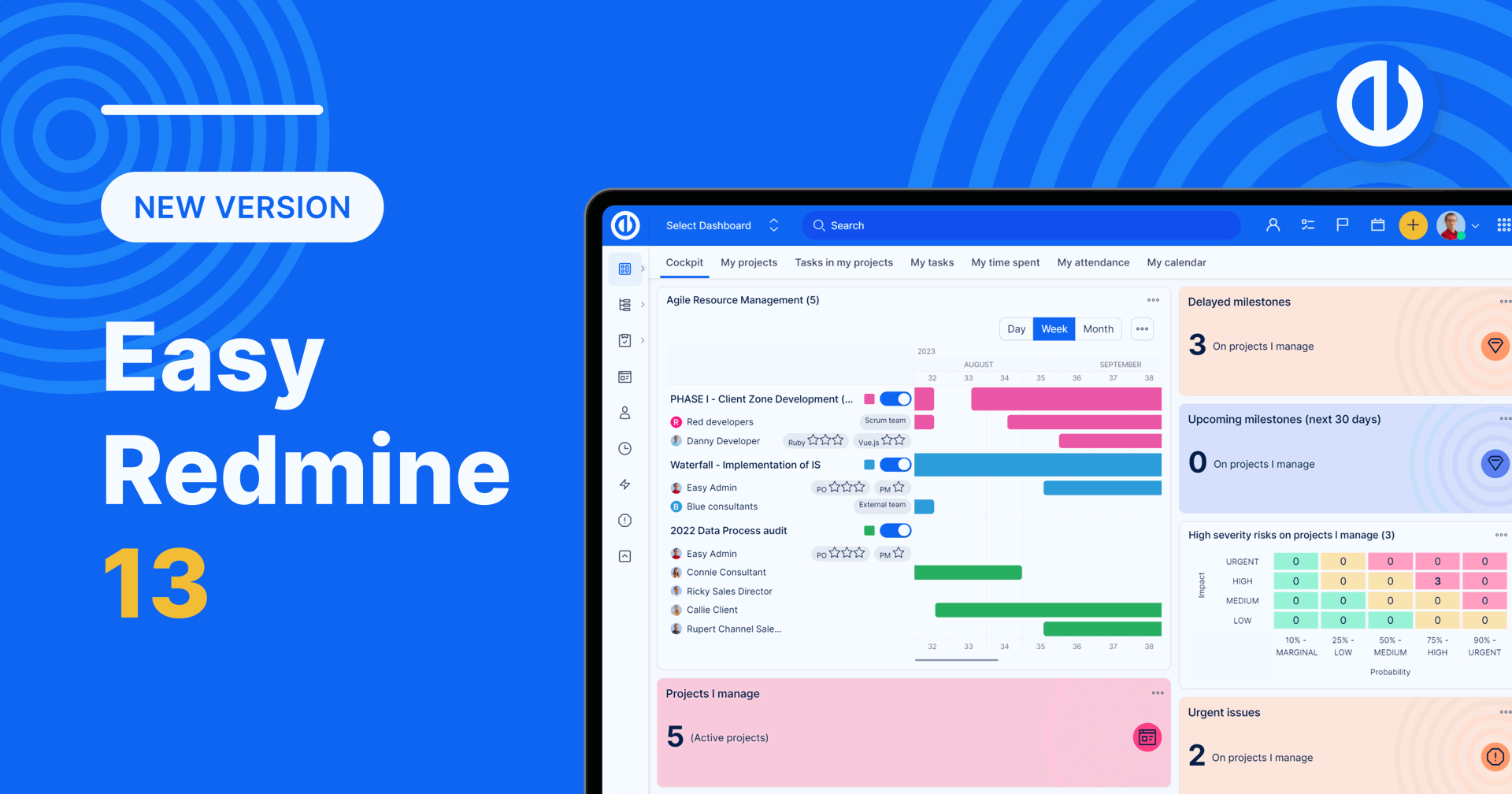 Scrum Boards
Under the guidance of a Scrum.org expert, Easy Redmine 13 introduces all-new Scrum Boards, a powerful tool enhancing real-time collaboration and team responsibility based on the fundamental Scrum principles.
Scrum Boards are specifically designed to support different aspects of Scrum methodology, providing valuable assistance throughout the project lifecycle.
Easy Redmine 13 comes with three dedicated boards supporting essential Scrum rituals and the proper utilization of Scrum roles.
1/ Product Backlog Board
The first board, the Product Backlog Board, is where the product owner sees the inbox of tasks and can make a first decision: throw it into the bin or give it a green light for further processing.
Tasks in the inbox (defining a problem) can be turned into Product Backlog Items (defining a solution). Product Backlog Items (PBIs) then travel through the whole Scrum process of "to-refine," "refined," and further to the sprint. This board is an effective tool for a refinement session, thanks to its capability to order, categorize, and split PBIs.
Creating a PBI is very user-friendly and straightforward with no need to repeatedly fill out exhausting forms.
Furthermore, the Product Backlog Board provides you with quick search functionality, allowing users to search for PBIs using emojis or color-coded labels, enabling efficient organization and retrieval of relevant items to keep your backlog tidy and up-to-date.
Finally, a large PBI can be literally split into two smaller pieces, where you will see 2 copies of the same item side by side on one screen. This saves so much time in your refinement sessions! Even the customers might want to spend more time with the team on refinements - further empowering the fundamental Scrum principle of client-team collaboration.
The PBIs are traceable with tasks in the rest of Easy Redmine, ensuring that the original task remains connected to the PBI. They work great with both support tickets and complex task structures that product managers like to see visually - in WBS.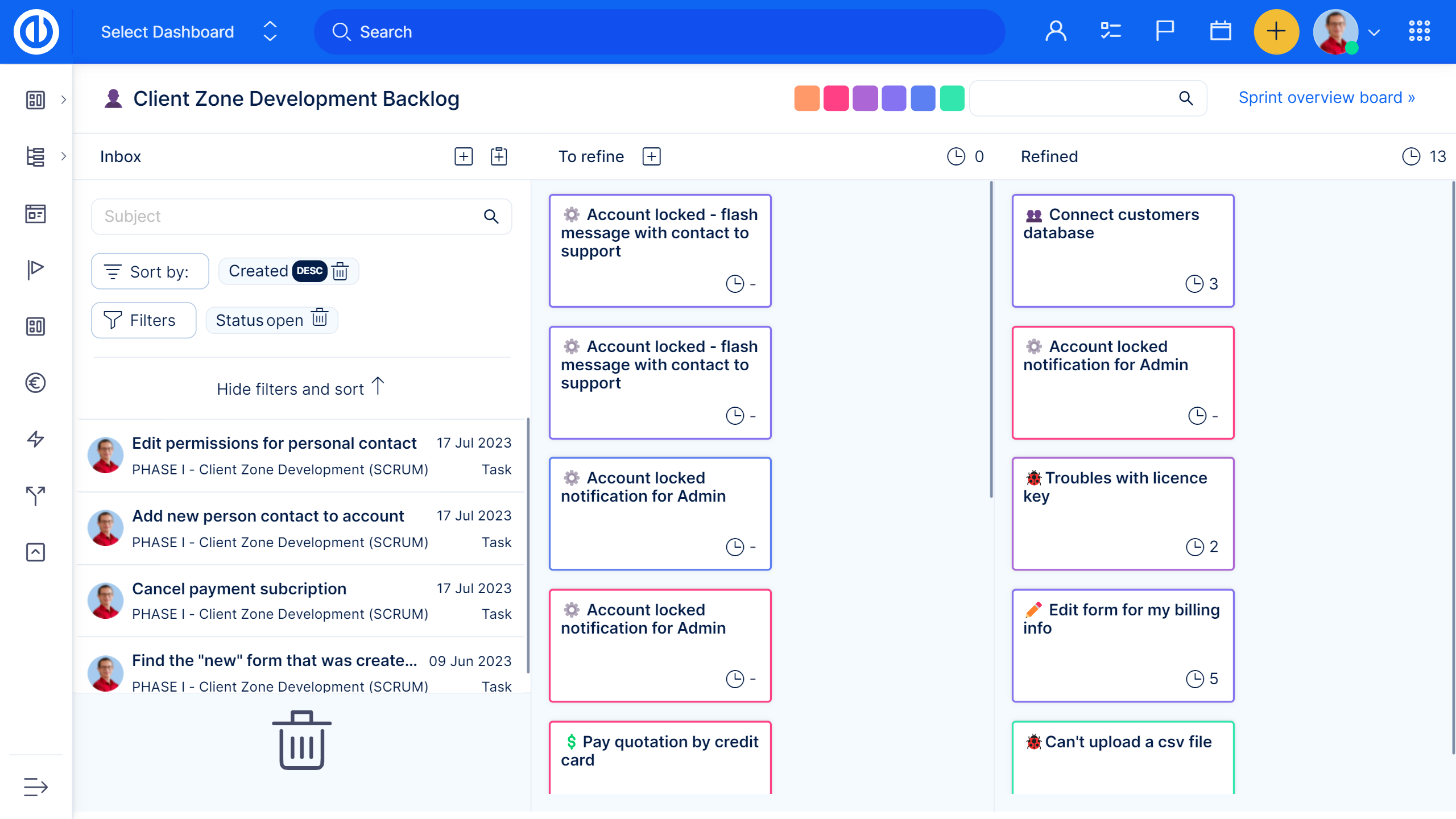 Product Backlog Board
2/ Sprint Overview Board
The second board, the Sprint Overview Board, aids in sprint planning and reviews. It allows you to set a sprint goal that will remain clearly visible at a prominent spot for the rest of the sprint. Visibility of the goal encourages collective focus on shared objectives, promoting collaboration, and fostering a sense of teamwork and collective ownership.
When any PBI is not completed in the sprint, the 'next sprint' section might come in handy. When the original sprint is closed, these items will automatically enter the planning session for the next sprint.
Moreover, the Sprint Overview Board provides a clear visualization of the 'refined section' of the sprint backlog from the Product Backlog Board. These items also enter the planning session. If they have been refined properly before, planning might become really short and focused.
The Sprint Overview Board can accommodate one or more teams on the same board, allowing you to easily set up one backlog for one team or one backlog for many teams (LeSS).
During the sprint review, the Sprint Overview Boards help facilitate discussions and make it easy to add new ideas to the 'to-refine' section of a backlog, enabling faster delivery of value to the customer and ensuring that important feedback from the customer is never overlooked.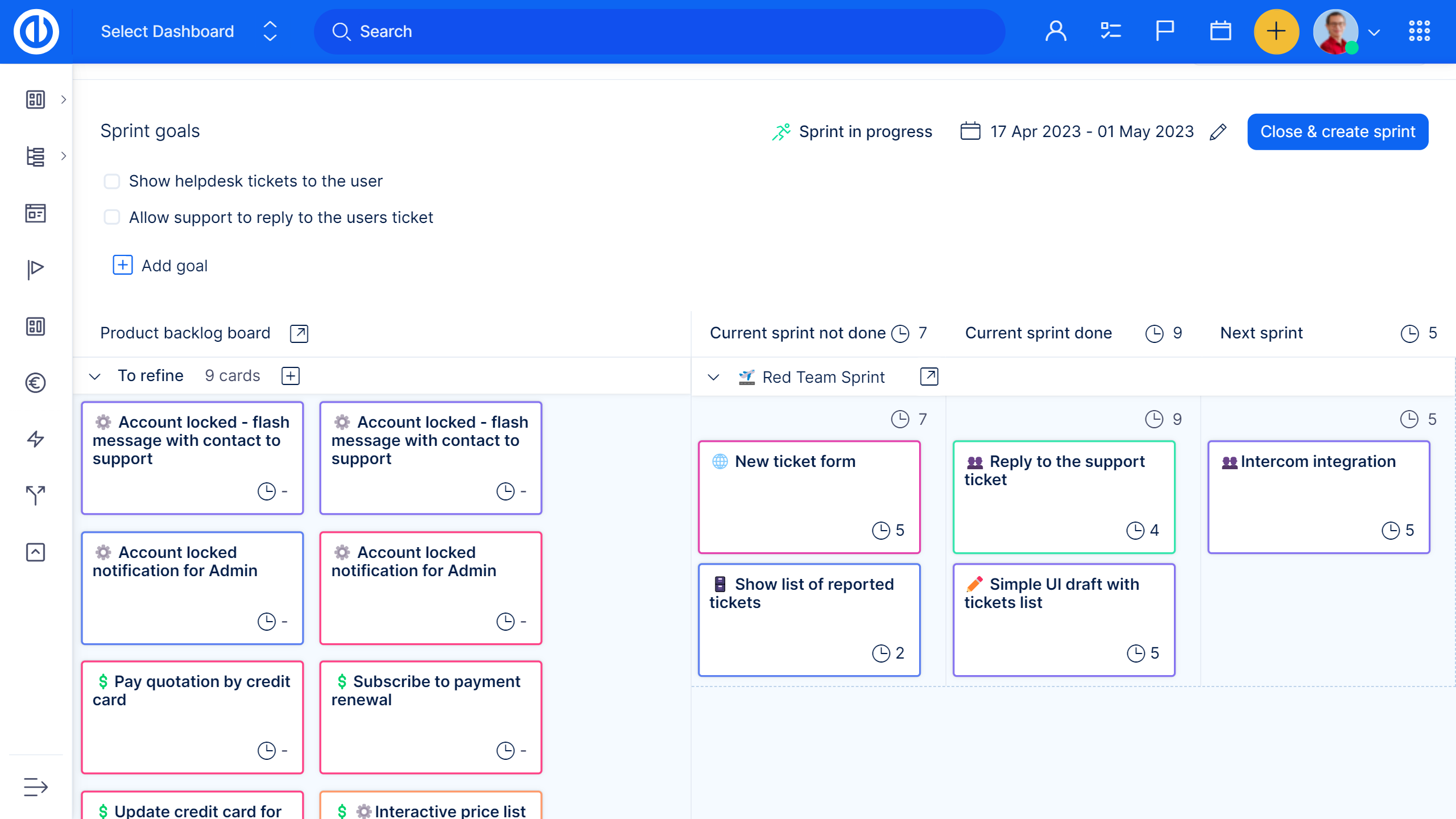 Sprint Overview Board
3/ Team Sprint Board
The third board, the Team Sprint Board, supports the team in the execution of the sprint. The Team Sprint Board provides a dedicated space where team members can collaborate, track their tasks, and visualize their progress in real-time.
This board fosters transparency and team accountability, allowing team members to actively participate in the sprint's execution and contribute to the achievement of sprint goals.
By skipping the option to assign Product Backlog Items (PBI) to individual team members, Scrum Boards in Easy Redmine 13 encourage shared team responsibility, preventing individuals from working in isolation and promoting collaborative efforts for the successful execution of PBIs.
The use of Post-its reflects the visual aspect of traditional Scrum practices. It emulates the advantages of physical tools like painting tools, where teams gather in one room for efficient collaboration.
The speed and simplicity of working with physical sticky notes are preserved in Easy Redmine 13, facilitating rapid and effective communication within the team.
This inclusive approach promotes a sense of ownership and shared responsibility among team members, leading to better collaboration and higher value being delivered to the customer at the end of each sprint.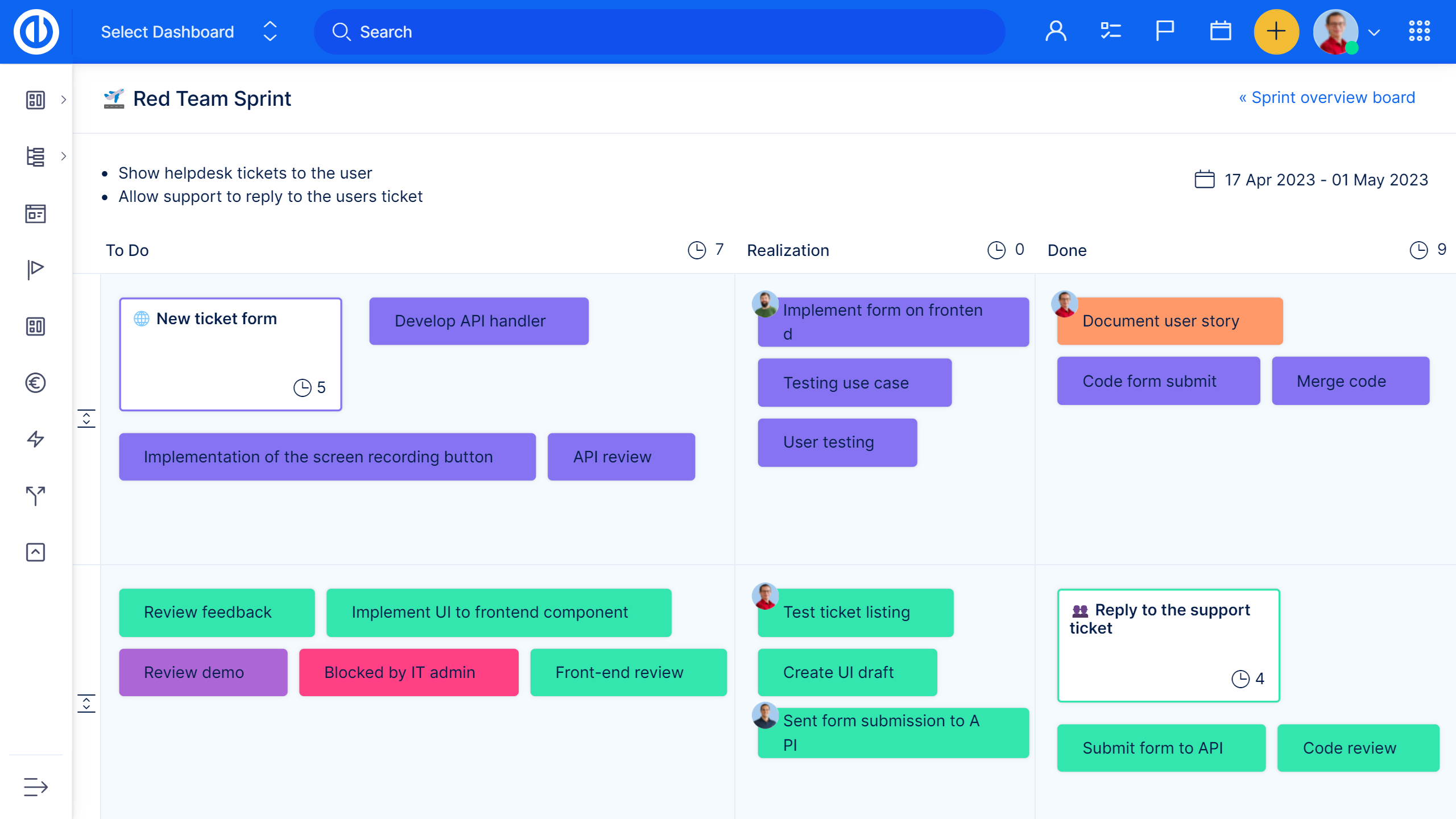 Team Sprint Board
Flexible Swimlanes
Swimlanes are horizontal rows on a Scrum board used to categorize and visually separate different types of work items or tasks. They provide a clear and organized view of the workflow, enabling teams to track progress, allocate responsibilities, and understand the status of tasks at a glance.
In Easy Redmine 13, every work item in your Team Sprint Board has its own freely adjustable swimlane. You can reorder your swimlanes on the board simply by drag and drop, and feel free to use the empty swimlane to write down anything related to the sprint but not associated with any Product Backlog Item.
With flexible swimlanes, your Scrum team gains enhanced flexibility and convenience when working with the sprint items every week.
The three Scrum Boards together serve as a centralized hub of information, promoting transparency, alignment, and efficient communication within the team.
Custom Kanban
Easy Redmine 13 introduces an added visualization tool to Project Kanban, providing transparency and improving team communication.
Custom Kanban accelerates the identification and resolution of bottlenecks, enhancing process adaptability. The flexibility of Custom Kanban enables users to present any set of tasks on various dashboards, the homepage, or project overviews.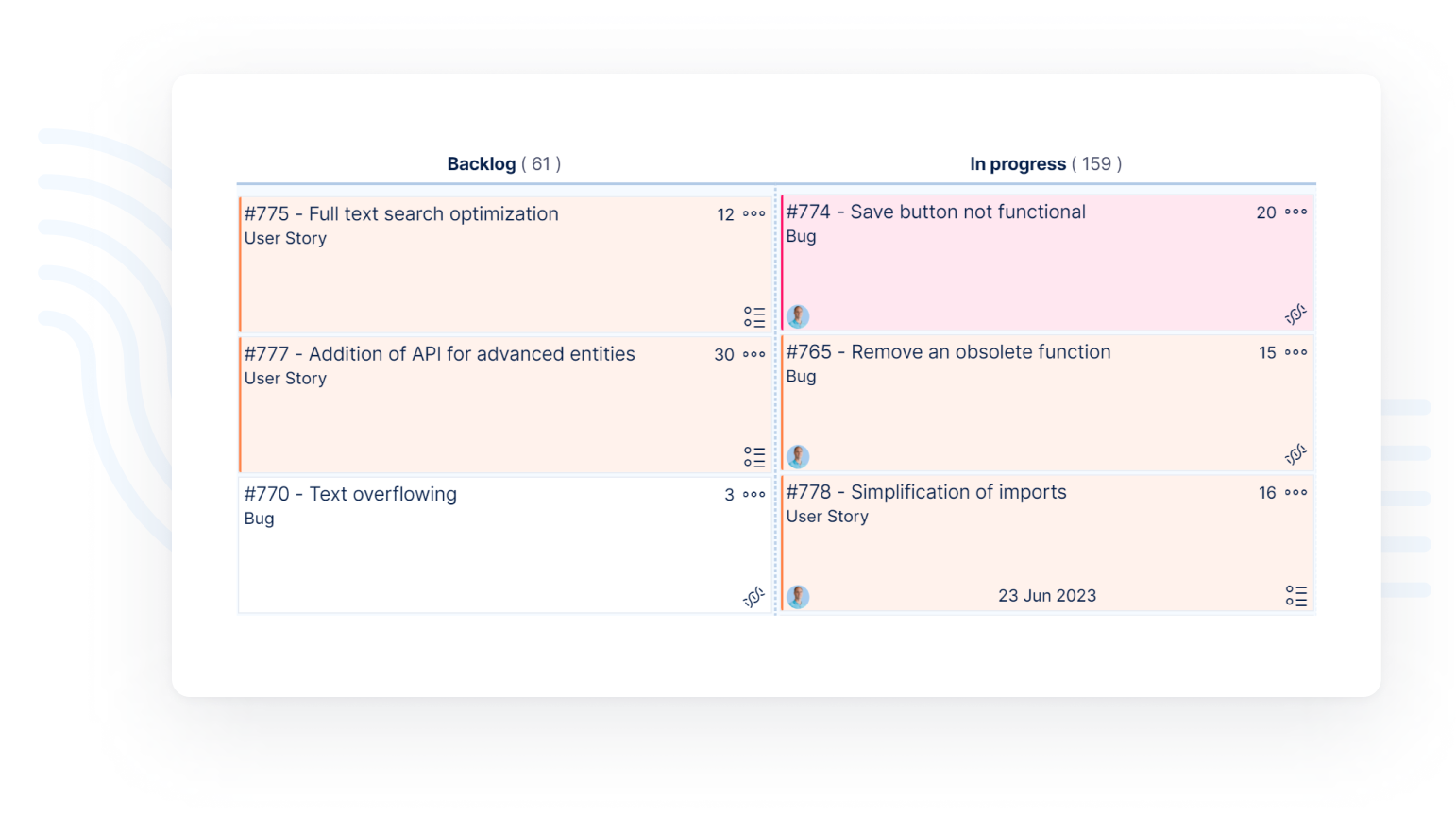 Custom Kanban
Unlike Scrum Boards, Custom Kanban works with traditional tasks. This means that teams can create customized Kanban boards that may serve their specific needs, allowing them to focus on relevant tasks and streamline their workflows accordingly.
Custom Kanban does not use any backlog. Instead, users can utilize the filtering and sorting capabilities of Custom Kanban to prioritize and organize tasks based on their requirements.
This adaptability makes it an ideal tool not only for project management but also for other departments that follow a strict flow of steps, such as HR or finance.
Knowledge Base
Our brand-new Knowledge Base empowers you to organize all your company information in one place and keep it accessible with a single click.
World-class Wiki Technology - The Knowledge Base provides wiki-structured content built on the same powerful open-source MediaWiki technology that fuels the engine of Wikipedia.
Powerful visual editor - Thanks to the robust visual editor, everyone can easily create and edit articles, databases, diagrams, pictures, and software code. Furthermore, to make the knowledge creation even smoother, you can develop and utilize your content templates or simply import your existing Word documents.
Advanced search - Advanced search with quick filters and content categories helps you find any information you are looking for in a few seconds.
Change and version management - Knowledge Base for Easy Redmine 13 enables change and version management, approvals, and integration with blogs, fostering collaboration and continuous learning, while also reducing support team workload through self-service help desk knowledge.
Publishing and workflows - Oftentimes, you need the content to be approved before it can be published to your knowledge base. With our Knowledge Base, you can customize your content approval process and set up a publishing workflow that best suits your needs.
By utilizing workflows, you can involve other team members (e.g., Editor, Reviewer, Approver) to provide their input, and they will be automatically notified about the pending feedback.
Workflows can be triggered manually or automatically upon creation or editing. Combining all of the above allows for a complex content publishing setting, enabling the team to stay informed about important updates and new content.
However, in cases where you don't need any structured publishing process in place, simply create your draft, press the publish button, and you're done.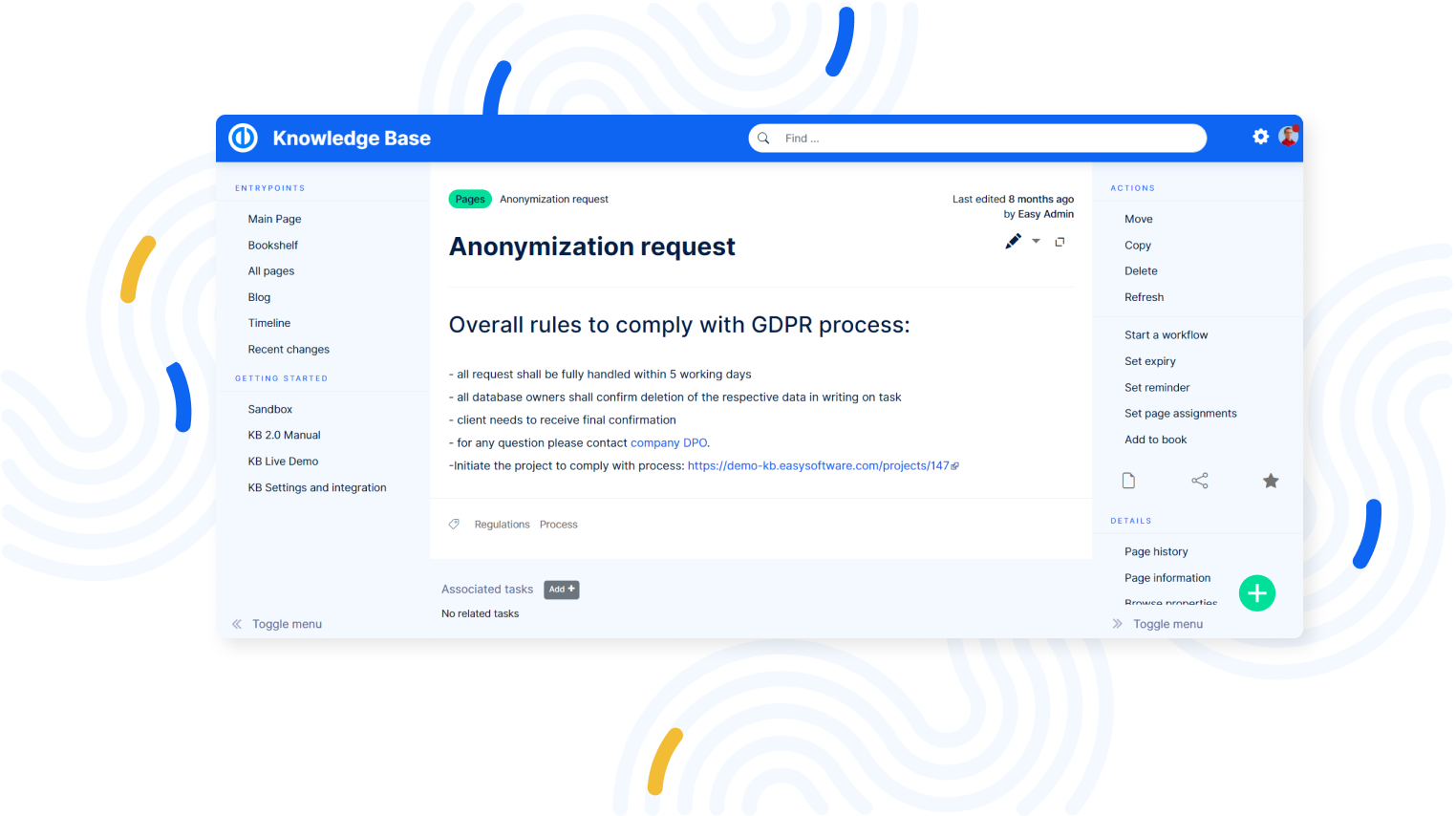 Knowledge Base
Asset and Configuration Management
Asset and Configuration Management is a new feature that enables you to create custom databases directly in Easy Redmine.
It enables secure access and centralized data management without coding experience. The feature simplifies the handling of regular operational matters in a single platform.
With the Asset and Configuration Management tool, you can track the life-cycle of your hardware assets, maintain the IT configuration information, manage your software licenses, or create any other custom database your team might need!
Advanced filtering - Powerful filtering and sorting options allow users to efficiently navigate and access relevant data.
By leveraging filters and views, users can quickly retrieve specific subsets of assets or configurations based on defined criteria, optimizing their workflow and saving valuable time.
Access management - Data security is of crucial importance for asset and configuration management, therefore Easy Redmine 13 provides you with secure access and permissions control settings.
Organizations can control and restrict user access to sensitive data, ensuring that only authorized personnel can view and modify asset and configuration information.
Jump to Dashboards
Navigating to dashboards has been made faster and smoother in Easy Redmine 13, enabling you to visualize important information from different teams, features, projects, etc., where you need them at a glance.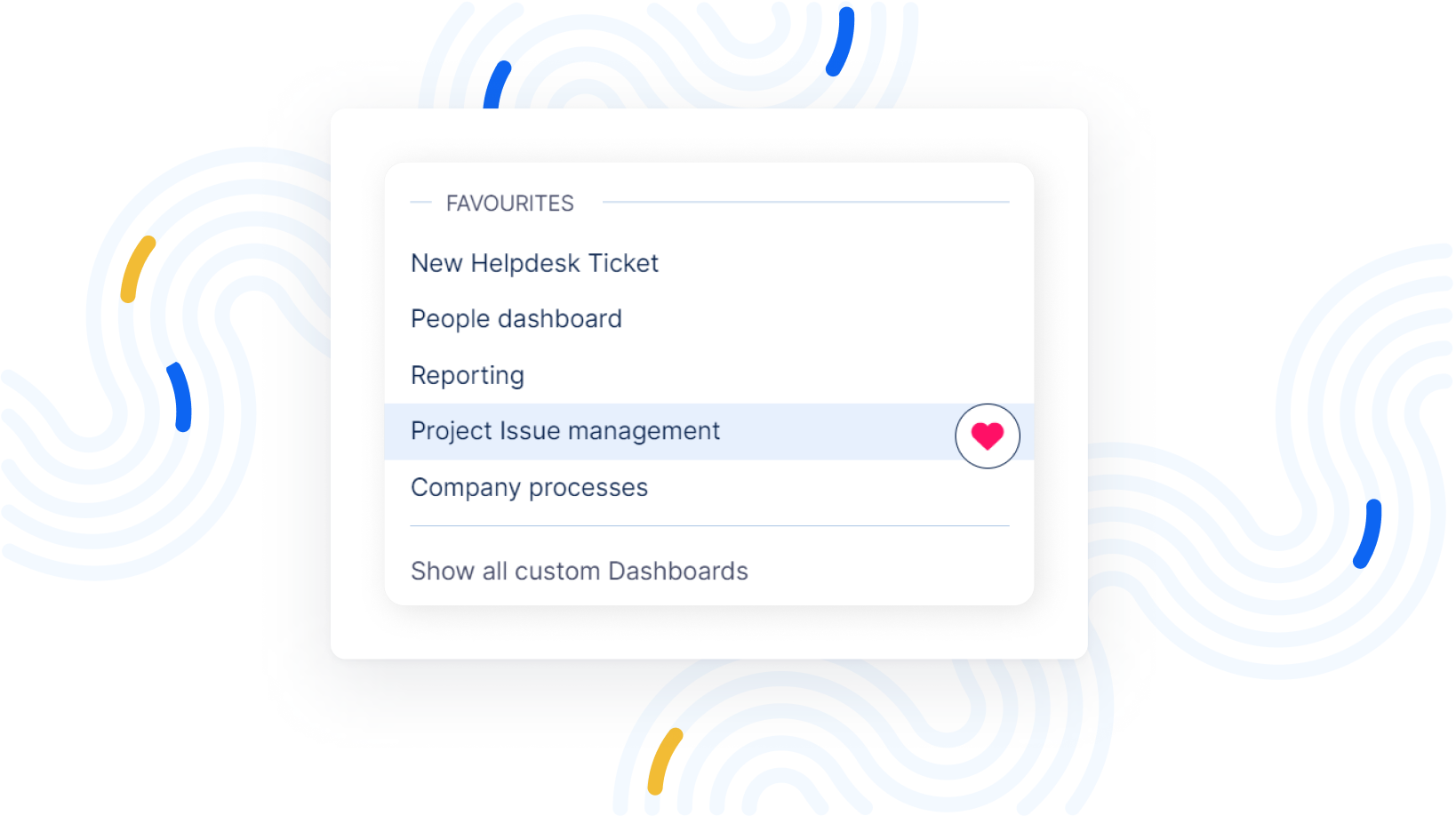 Jump to Dashboards
With the new Jump to Dashboards feature, everyone can add dashboards to favourites for quick access, enhancing user efficiency and providing a more transparent view of public dashboards.
Simply create any kind of dashboard for your teams, specific processes, reporting dashboards, or documentation repository.
1) Team dashboards
One of the use cases is team dashboards, which can be utilized by consulting teams or other departments. These dashboards provide a centralized view of team-specific metrics, tasks, and progress. Like for example members of the Consulting team, can list their implementations grouped by status.
2) Process-focused dashboards
Another use case is process-focused dashboards, such as bug or delivery management. These dashboards streamline the monitoring and control of specific processes, ensuring efficient issue management.
Controlling dashboards offer insights into tasks overdue, key performance indicators, presentations, and important information. These dashboards enable effective monitoring of project progress and performance.
3) Reporting dashboards
Reporting dashboards are utilized after project completion to provide graphical summaries and reports of the project's outcome. They offer valuable insights and serve as a comprehensive overview of the achievements across projects and use visual reporting tools like tabs, trends, and reports.
4) Documentation dashboards
Lastly, documentation dashboards serve as a centralized repository of information for the entire team. For example, Easy Redmine employs such dashboards to provide essential information and resources to its team members.
By offering these diverse use cases, Easy Redmine 13 empowers users to create dashboards tailored to their specific needs. It is a central hub that redirects to other sources of information: knowledge base, web, pdfs, or external applications.
New Design
The Easy Redmine 13 interface has undergone an advanced facelift while maintaining a user-friendly experience. With a more spacious layout, it now showcases a fresh, clean, and airy aesthetic that aligns with modern design principles. Buttons, curves, and forms have received a color update, delivering a refined visual appeal.
In addition to its revamped interface, Easy Redmine 13 now includes a highly anticipated dark mode, providing users with a sleek and sophisticated option for better readability and customization.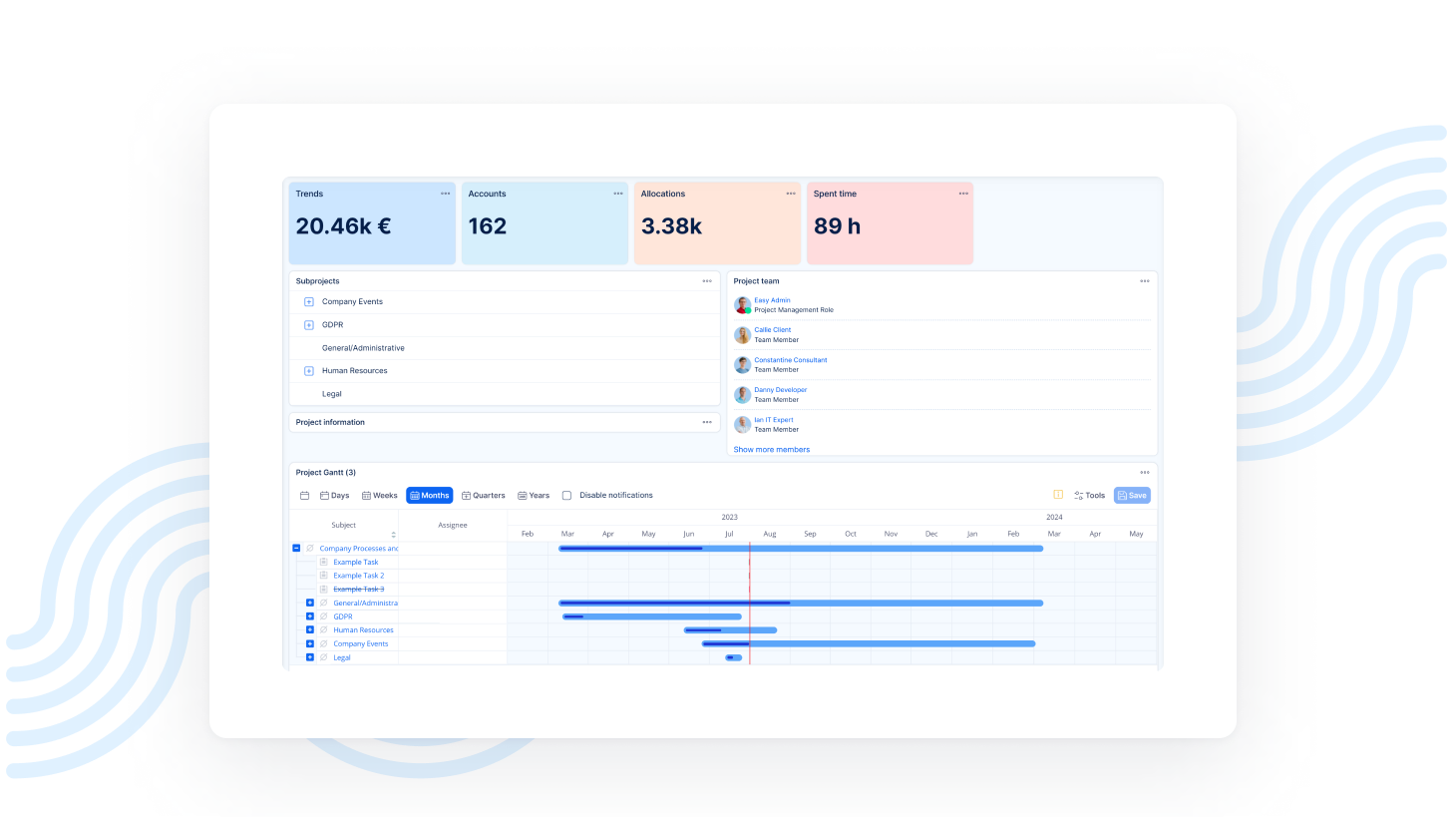 Easy Redmine 13 new interface
Picture Upload
Last but not least. Easy Redmine 13 introduces an upgraded picture upload feature. Users can now upload images almost anywhere, edit them, and view them in task updates as previews.
There's even the option to upload GIFs, adding an element of fun to project management!
Conclusion
Easy Redmine 13 makes your work flow by promoting seamless collaboration and efficiency. Its Scrum Boards, new design, and other advanced features like 'Jump to Dashboards', Knowledge Base, and Custom Kanban all contribute to an effortless workflow. By enhancing communication, simplifying data management, and making information readily accessible, Easy Redmine 13 is not just a tool - it's a smoother, more efficient way of working, ensuring your teams thrive and your projects succeed.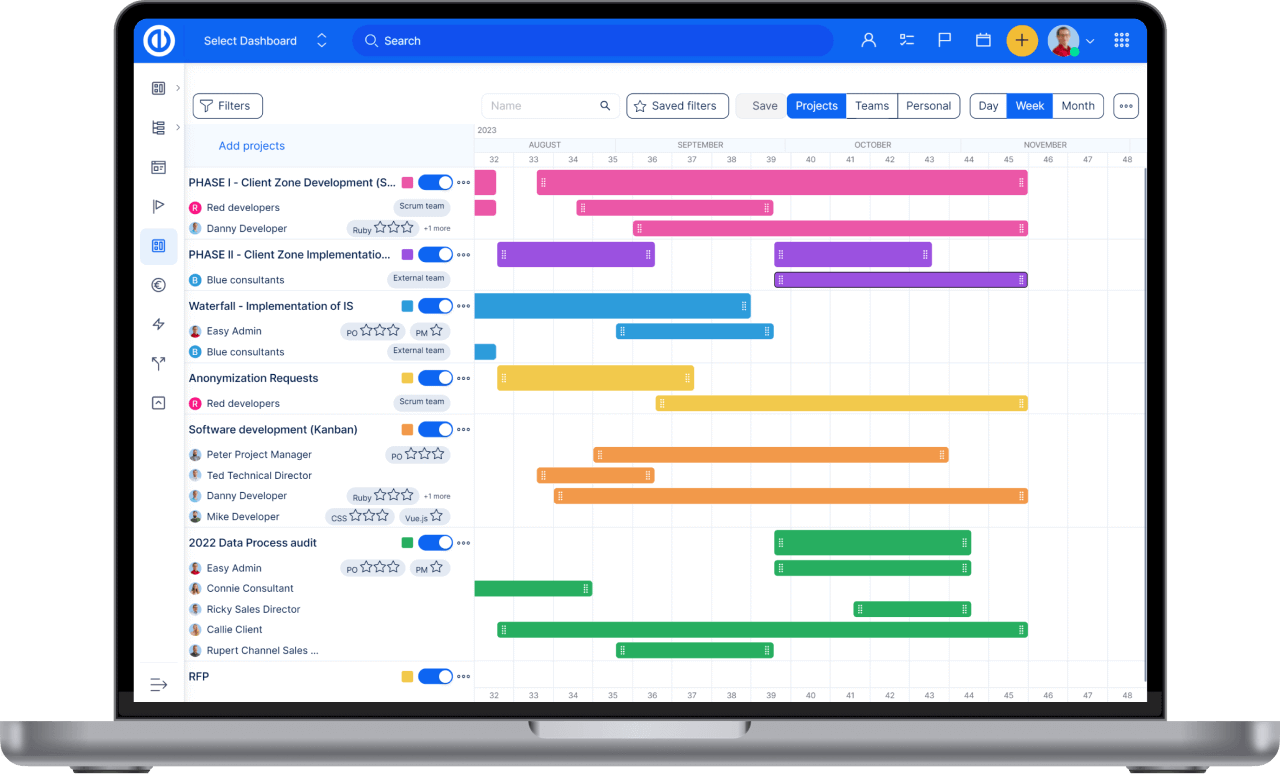 All-in-one software for a modern project manager? Easy.
Get all powerful tools for perfect project planning, management, and control in one software.