Technical info about Easy Redmine
Want to import your Redmine data into cloud Easy Redmine?
Before any migration can take place:
All third party plugins must be uninstalled AND unmigrated from your Redmine. Just removing the plugin folder and restarting Redmine is insufficient, because the data structure is still modified.
Also, you need to remove all your own modifications from Redmine for the data to be importable. Easy Redmine requires Redmine to be in standard unmodified form.
How to prepare data for Easy Redmine Cloud:
MySQLdump of your Redmine

Easy Redmine in cloud supports only mysql DB
Whole DB and all fields has to be in UTF-8 coding page (utf8_general_ci)
InnoDB engine (MyIsam is not supported)
Command: $ mysqldump redmine --compact | gzip > redmine_dump.sql.gz

Files

We need to get folder files, and its data
$ tar -czf redmine_files.tar.gz [redmine_root]/files
In other words:

Importing a database dump to Easy Redmine always completely replaces the previous data on that site, therefore it is not possible to import the data again and keeping the "old"/"common" data on the site. In other words, once you imported the data in Easy Redmine, do not use both sites on production simultaniously, if you intend to make another import.
Old Redmine versions (lower than 3.x) need to be upgraded to Redmine 3.4.2. In general, older versions require additional steps which need to be consulted with support and may incur additional costs for migration services.
I already have Easy Redmine installed. How do I check which version it is?
Version of Easy Redmine can be checked on a special page, which must be entered manually into the navigation bar (/admin/info). Scroll to the very bottom of the page, where you will find the number of your exact version.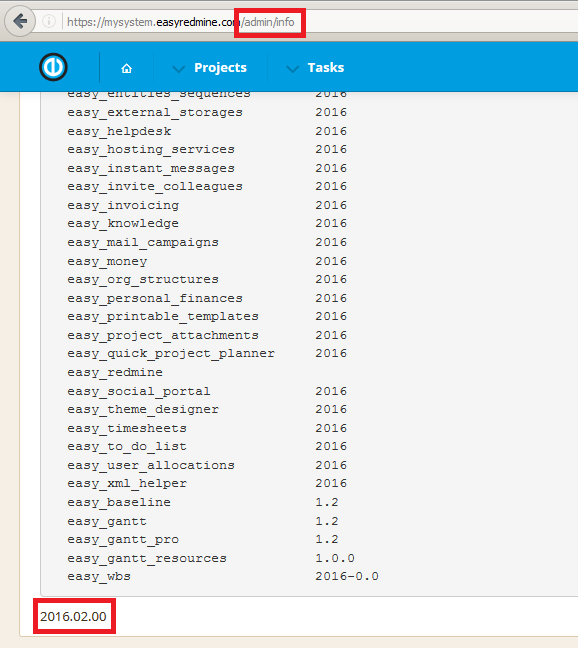 To explain the numbers:
2016 - Generation (major version). By standard, you will notice it by overall change of the GUI and CSS.
Examples of login pages from different generations:

First number - minor version. Contains added features in comparison to previous version.
Second number - bug fixing release (patch) within the minor version. It doesn't bring any new feautures, just fixes or optimizes the existing version.
What are the parameters of the Server solution?
By purchasing Server solution of Easy Redmine you obtain an installable package of the software with the open source code.
License:
the software is licensed under GNU GPL 2 license
images, cascading style sheets, and included JavaScript are NOT GPL, and are released under the Easy Redmine Commercial Use License
Technical delivery:
installable software package
VMware image
Platforms:
it is platform independent - runs on Linux, Unix, Windows - via Virtualbox or VMWare player, OS X servers

Hardware and software requirements for the Server solution?
The following are the minimum requirement for smooth operation of Easy Redmine with 25 concurrent users. For more users, please check the article Environment configuration for large implementations .
Hardware
Processor: Intel Xeon E5440 @ 2.83GHz
Memory: 4 GB
Disc space: 20 GB (3 GB for database files + enough GB for shared documents, individual)
Network card required
Software (server)
Easy Redmine works on UNIX and Linux platforms - officially supported distribution is Debian. Detailed information about operating systems is described below.
Easy Redmine does NOT run on Microsoft SQL Server.
It is also possible to provide a complete virtual machine - VMWare, so you don't need to worry about this configuration at all.
More detailed information is in installation instructions.
Software (client)
Other browsers were not tested extensively, but they are likely to work just as well as the above-mentioned ones. For stability and security reasons, always keep your browser up to date.
Internet connection
The connection from the user to the server where Easy Redmine is located must be at least 10 Mbit. You need to take into account the whole route from the user to the server, so with geographically distant locations, the response of the server may take a longer time, regardless of the user's declared internet connection from their provider. The bandwidth of the server is also a factor, of course.
Operating systems
Debian
Officially supported
CentOS
Ubuntu
Tested
but not actively supported
Other Linux distributions
Not tested, may have very specific requirements - not supported
Windows Server
Not supported
OS X
Not supported
In case you are using one of the unsupported systems, we have a feasible, guaranteed and supported solution for you - virtual machine (VM) with preinstalled Easy Redmine on Debian server in OVA format. This way you can run the application on any kind of OS, like hundreds of companies already do. To get a VM, please contact your account manager or our support team. More information about VMs is available here.
Debian is the only supported OS to host Easy Redmine directly (without virtualisation). Installation instructions are available in the installation package in /doc/INSTALL.
CentOS and Ubuntu are suitable systems to host Easy Redmine (being widely used distributions of Linux). However, some of their specifications may lead to various issues. In such cases Easy Software provides best-effort support without any guarantees.
Other Linux distributions such as Red Hat Enterprise Linux (RHEL), OpenSUSE, SELinux, Mint, and many others are likely to have unforeseeable and undocumentable complications with installation and maintenance of Easy Redmine. Support is best-effort and without and any guarantees. Which is why, in this case, we will happily provide you a VM.
Running Easy Redmine on Windows Server or OS X is done strictly via VM (.ova format, with Debian). These systems require operations that are automatic in Linux systems, to be carried out manually with a great chance of human or technical failures.
Docker
We know of companies that stabily run Easy Redmine on Docker. However, they do so without any technical support from our side and are fully liable for any issues that may occur. Technical capacities of Easy Software are fully dedicated to functional stability and quality of our application, which means we forgo support of some third party technologies, such as Docker.
Hardware and software requirements for larger implementations?
This table is a simplified summary of higher usage levels of Easy Redmine server solution. For smaller implementations with more detailed description, please check article Hardware and software requirements for the Server solution .
| | | | | |
| --- | --- | --- | --- | --- |
| Users | CPU cores | RAM | HDD | DB |
| 50 | 8 | 12GB | 40GB | MySQL |
| 100 | 12 | 32GB | 60GB | MySQL |
| 200 | 24 | 64GB | 100GB | MySQL |
| 500 | 48 | 128GB | 150GB | MySQL |
Values in the table are not strictly given and the whole configuration depends on the extent and significance of the use of Easy Redmine in the company. As well as on frequency of user access and requests sent to the server.
If you are considering using Easy Redmine as your main information system for a large number of users, we recommend deploying a High-Availability cluster to make sure the system will always be running. In general, for more than 100 users it may be better to consult your precise needs with our experts. We would be happy to discuss with you all the significant configuration matters.

A scheme of the most basic HA cluster is available here.
Updates for Server solution?
Updates are available for free for 3 months after the purchase. You can download them in the Client Zone where you obtain the access.
After 3 months of "free upgrades period", you may purchase updates at an additional cost.
Can I upgrade a currently running application?
No.
– Do not upgrade a currently running application. Before starting any upgrade inform your users about maintenance time and shutdown application server.
– Upgrade of live application may cause data loss - stop application server before you do an upgrade.
– We recommend for you to do your upgrade by an authorized person (linux administrator, server specialist, someone who knows what he is doing).
How to go from a trial to a paid solution?
If you want to keep the settings and data from your trial version, just buy the solution you want and let us know (support@easyredmine.com) about your needs. Your Trial instance will be either backed up (Server solution) and delivered for installation or seamlessly moved to the client server (Cloud solution).
Try it free
Easy Redmine upgrade
Top plugins & features
New & mobile design
Server upgrades
Global cloud
Start Free Trial