Have Easy Redmine your way: The adaptability of open source
Enterprise Open-source software has ushered in a new era of interesting possibilities for businesses that are unwilling and unable to make compromises on their unique requirements.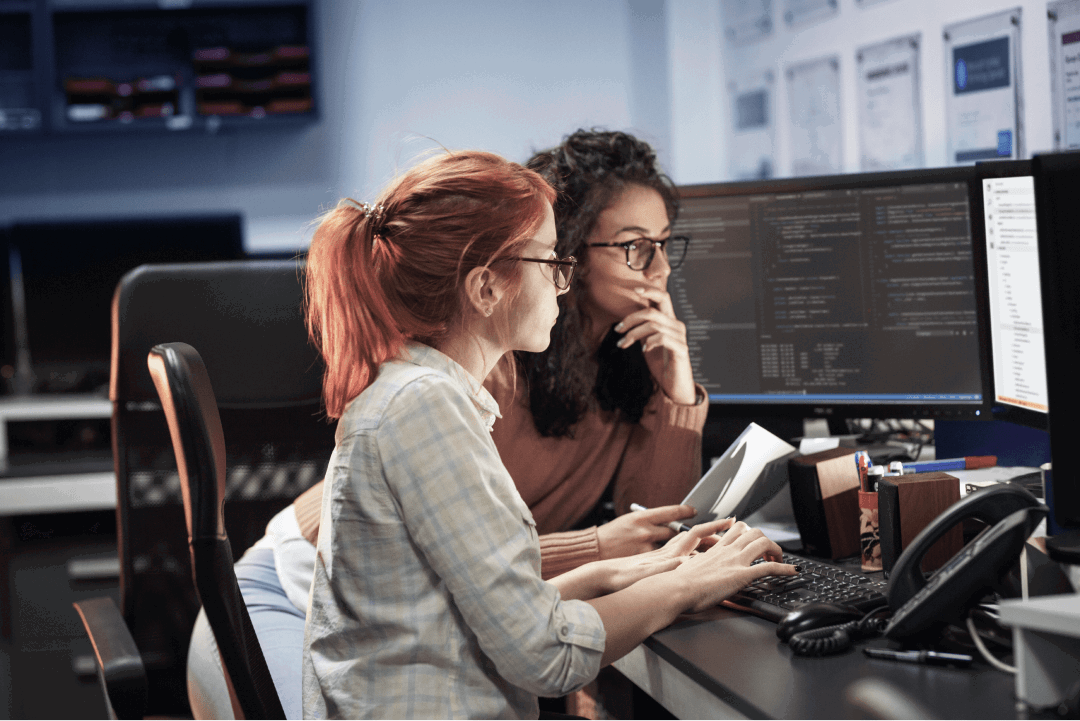 Be it company standards, security, GDPR, or other issues, enterprise open-source has given businesses the liberty to customize software solutions according to their unique requirements, and actually own and control their source code while keeping the level of support and stability usually provided by commercial platforms.
Enterprise open-source is a fundamental change in how businesses approach software utilization and customization, marking a significant departure from the constraints of proprietary software.
Open source brings forth transparency, collaboration, and adaptability. Now, let's delve deeper and examine the offerings of Easy Redmine - a highly flexible and extensible project management application based on formidable open-source technology.
Introducing Easy Redmine benefits
Easy Redmine is an ideal tool for businesses seeking to harness the benefits of open-source software because it provides a robust platform for project management that is both highly customizable and cost-effective.

Customization
Being Enterprise open-source software, Easy Redmine offers a level of customization that is rarely found in proprietary software.
Organizations can tailor the software to meet their specific needs, choose from an array of plugins for added functionalities, and even modify the code to fine-tune its operations.
Cost-effectiveness
Unlike many proprietary software solutions, Easy Redmine operates on a pricing model that charges per user with user increments, instead of tier-based pricing.

This means businesses only pay for what they need.
Furthermore, Easy Redmine offers both cloud and on-premise solutions, providing flexibility and options to optimize costs based on specific business needs.
If you compare this to the pricing policy of a commercial vendor like Atlassian, it is highly advantageous for most companies when compared to Jira stack.
With initial costs that are usually bigger than Easy Redmine and TCO which increase significantly over time, Jira is definitely the more expensive option for both cloud and on-premises.
Meanwhile, Easy Redmine maintains its cost-effectiveness with a much lower TCO even after several years. The difference is even more apparent when we look at Jira Data Center.
Versatility
Easy Redmine isn't just a project management tool, it's a platform that can also support Knowledge Base, HelpDesk, DevOps and code repositories.

This allows different teams within an organization to collaborate on a single platform, thereby reducing software silos and improving overall productivity.
Easy Redmine offers strong alternatives for each component of the modern (not only) software development stack: Knowledge Base 2.0 as an alternative to Confluence, a sophisticated Help Desk service in place of Service Desk, and GitLab as an alternative to BitBucket.
Support and Maintenance
While retaining its open-source roots, Easy Redmine goes above and beyond by delivering the level of support and service typically expected from commercial vendors.
They provide continuous support and upkeep for both their cloud-based and on-site solutions.
Users are given the privilege to access the latest versions and updates. However, Easy Redmine respects its autonomy by making these updates optional.
This gives businesses the leverage to control their upgrade cycles and plan updates in line with their schedules and needs, further amplifying the platform's adaptability and user-centric approach.
Freedom
Easy Redmine is committed to supporting the freedom associated with open-source software.
Whether it's the freedom to modify the code, the freedom to choose between cloud and on-premises installations, or the freedom to manage updates according to business needs, Easy Redmine puts the control in the hands of the users.
How can be Easy Redmine modified?
Easy Redmine is highly customizable, providing a versatile tool that can be tailored to align with any task or requirement that a business might have.
Here are some of the ways how it achieves this:
Module-Based System
Easy Redmine is built around a module-based system, which allows users to add or remove features based on their unique project management needs.
It offers an array of plugins, including Gantt Chart, Work Breakdown Structure, Mind Maps, Resource management, Scrum boards, various Dashboards, CRM, HelpDesk, and DevOps, providing flexibility to businesses to structure their project management environment.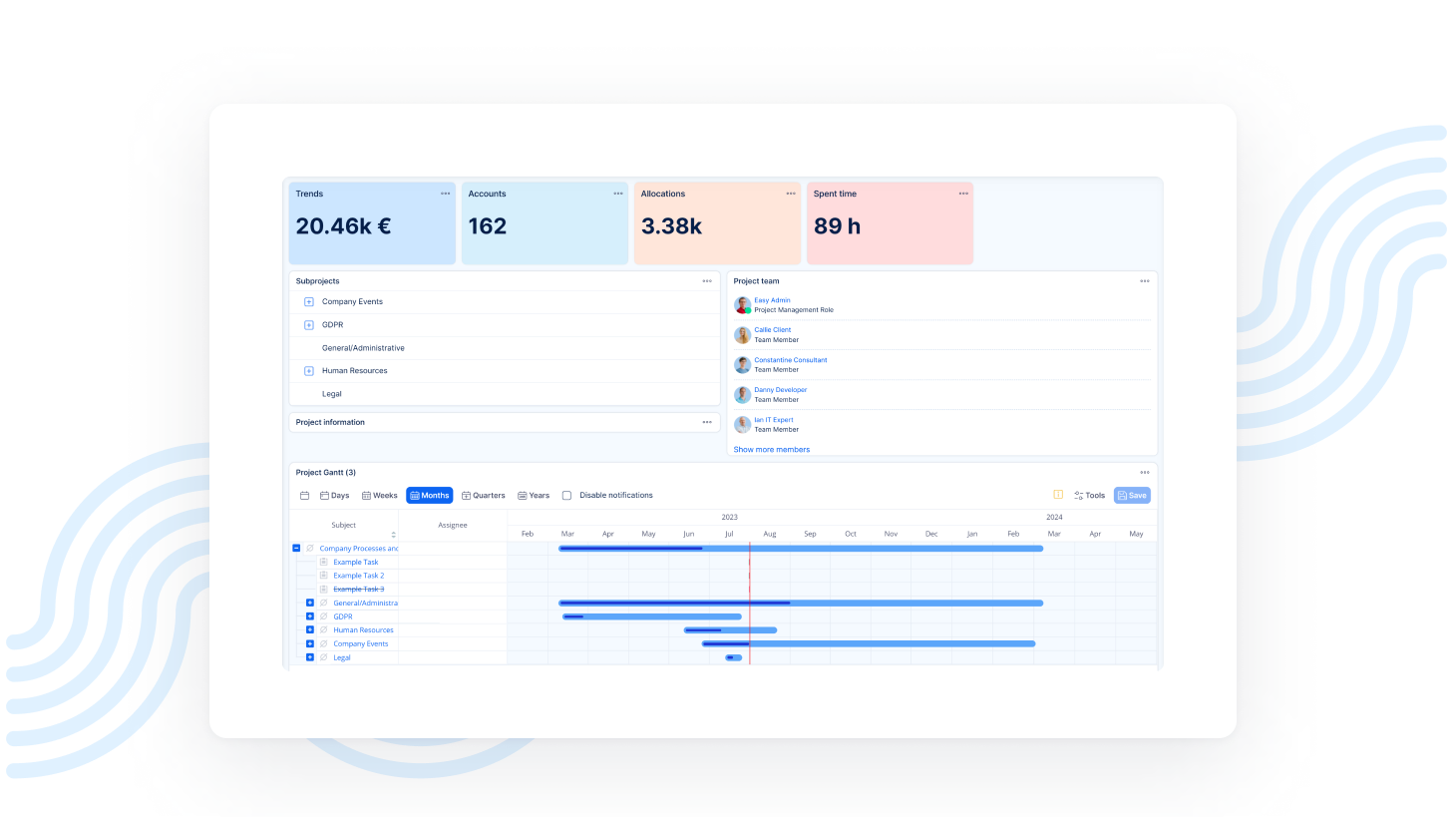 Code customization
As it's an open-source tool, users have the freedom to customize the code of Easy Redmine to fit their specific requirements.
If there is a unique feature or functionality that your business needs, you have the option to modify the code to create that feature.
Or has it been developed directly by Easy Software, the company that has been successfully building Easy Redmine for 15 years?
Dashboard and data customization
In Easy Redmine you can create your own dashboards, showcasing the data and statistics they deem most relevant, directly within the platform itself.
It does so without the need for a separate Business Intelligence tool.
This capability allows for informed decision-making based on real-time insights without the added complexity and cost of a separate Business Intelligence software.
Consequently, users can shape a dashboard that suits their preferences and working style, ensuring a genuinely user-centred experience within the platform.
Integration capabilities
Easy Redmine can be integrated with 1000+ applications via Zapier.
Such integrations allow businesses to create a unified project management ecosystem that brings together all the necessary tools in one place.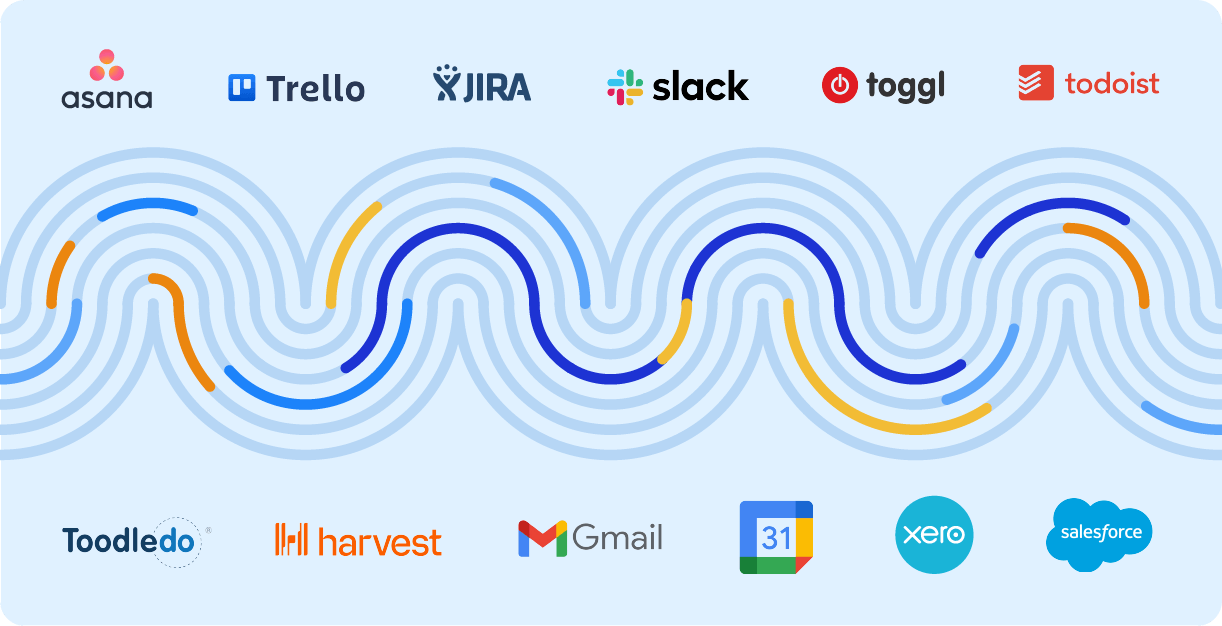 Success Stories: Easy Redmine in Action
A real-world example of Easy Redmine's adaptability is evident in the case of SZTAKI, a Hungarian research institute. SZTAKI transitioned from a limiting Redmine system to Easy Redmine to streamline its operations and project management.
The institute capitalized on Easy Redmine's open-source nature to adapt it according to their requirements, ranging from issue tracking to project management and from digitalizing the filing process to integrating GitLab.
Read more about SZTAKI's success story in our case study.
Utilize y
our potential with Easy Redmine
In conclusion, adopting open-source solutions like Easy Redmine is not just about accessing affordable, secure, and customizable tools. It's about empowering your teams to customize solutions that suit your unique needs, fostering innovation and efficiency in the process.
Whether you're a small business looking for a cost-effective solution or a large organization needing a robust project management system, Easy Redmine is a reliable and versatile choice. It's the freedom to shape your software that sets open source, and consequently, Easy Redmine, apart from the rest.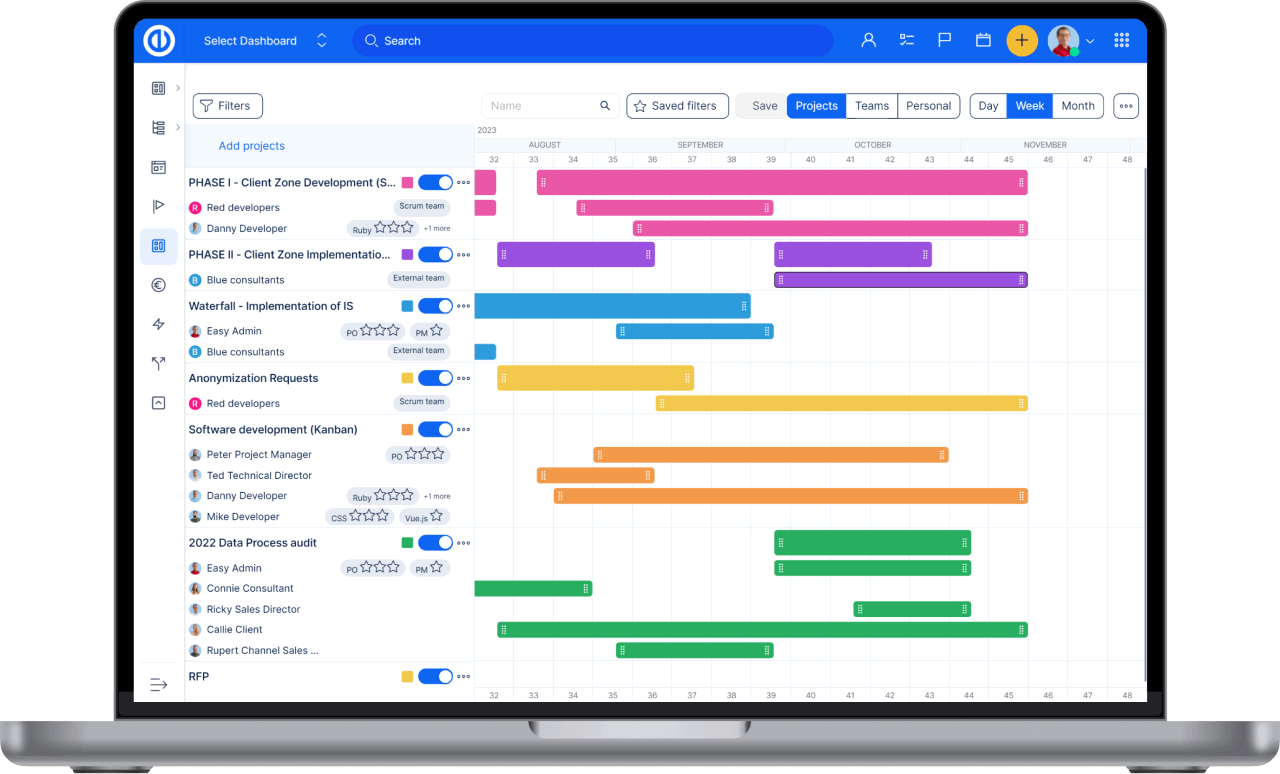 All-in-one software for a modern project manager? Easy.
Get all powerful tools for perfect project planning, management, and control in one software.