New Native Easy Redmine Mobile App Is Here! Discover Top 3 Features for Everyday Use Cases
The new Easy Redmine mobile app frees you from your working desk – you can create new tasks on the go, post quick comments to keep things moving, and track and dominate your time with a few taps. Take a look at how it works!

The trend of managing projects after 2020 is to spend at least half of working time away from the desk. It is necessary to adjust your tools, so you can be fully mobile.
Easy Redmine app allows you to keep productivity and take control over your projects from wherever with these features:
Mobile task management – create and assign tasks as you go
Quick feedback – comment on tasks to keep things moving
Mobile time tracker – record your activities in individual tasks or projects
Project overview – have control over your projects no matter where you are
Personal statistics – know immediately how much you worked this week or month
"To do basic PM tasks, you do not need to sit
behind your laptop – just get a good app."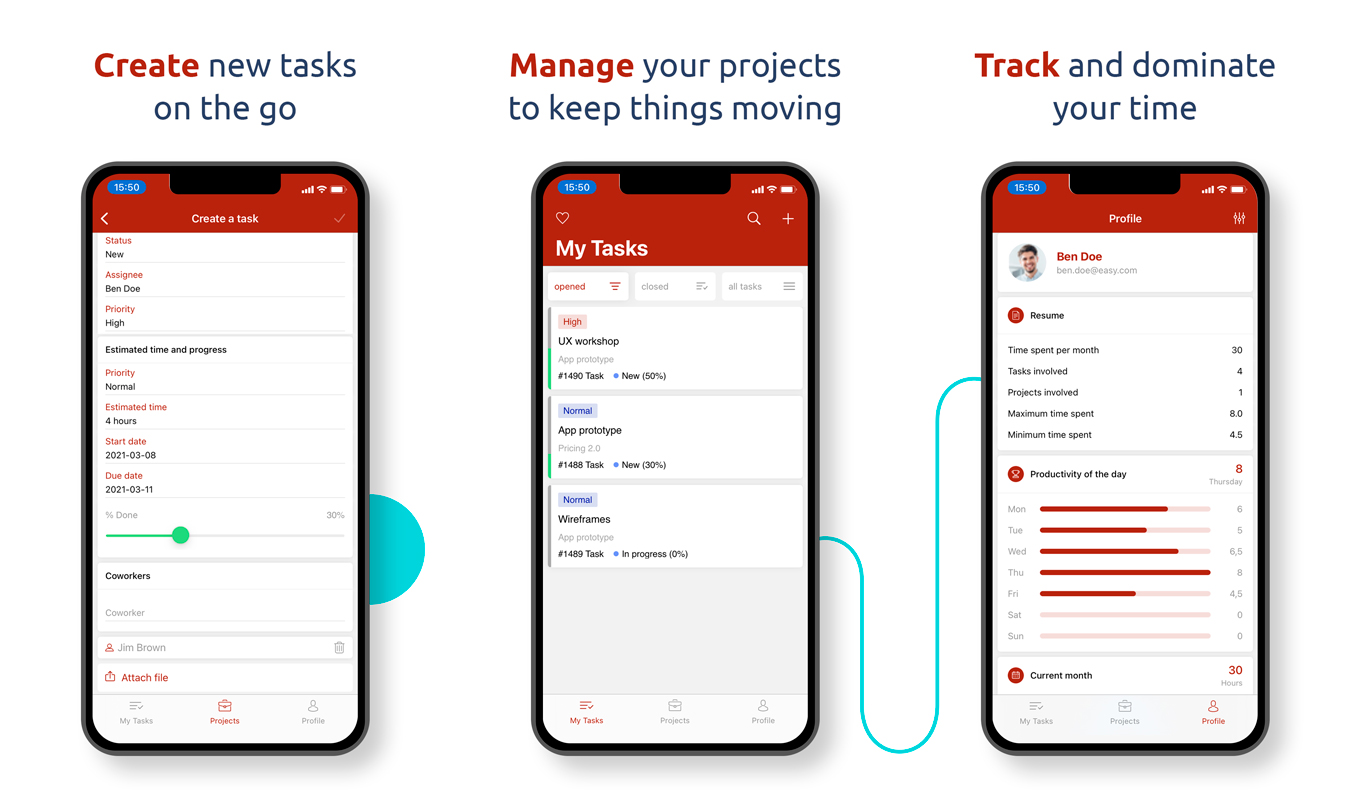 New Native Easy Redmine Mobile App Is Here! Discover Top 3 Features for Everyday Use Cases
1. Task Management
Why would you create and assign new tasks from behind your office desk? Simply turn your meeting notes into tasks with a few taps while having a cup of coffee in the fresh air. And if you suddenly get an unexpected idea, just find the task in the app, comment on it or change its priority.
2. Know what is going on – whenever, wherever
Easy Redmine app provides you with a clear overview of your work. With a few moves, you can search and filter among your projects, see their structure and status, compare them, and plan priorities for the current day or the next week.
3. Track your time
No time to track time – we all know that problem. But whatever piece of work is done within the app, you can track down the time you spent on it with just a few taps. Immediately using our special stopwatch, or once a day – from your bathtub, let's say.
In conclusion
While there are still going to be some parts of the project management work you want to do on the big screen, the basic tasks can be easily done on the display of your smartphone. That is when the new native Easy Redmine mobile app comes in handy. So you will be able to work – manage your projects – smoothly from anywhere.