Redmine Time tracking plugin
An easy and effective way to log time and get great timesheets.
Log time is one of the most common operations. Therefore if you improve the process of logging, it will significantly upgrade your efficiency.
First Redmine solution on Rails 6
Upgradable from all Redmine versions
100% Open Source
7 ways to log time in Redmine
There is a couple of ways how to log time with Redmine time tracking by Easy:
From the task list - click right mouse button and choose "Log time" from context menu
From the task detail - click "More" from right menu and choose "Log time"
Update task - click "Update" from right menu
Use spend time calendar - choose particular day and click on "Log time" link
"More" menu item - click log time on "personal statement"
Stopwatch -click button "Start working" and then click "Finished" button
Log time with timesheets - click "More" > "Personal statement" > "Timesheets" > Select the user and log time
Explore time tracking in Easy Redmine free trial.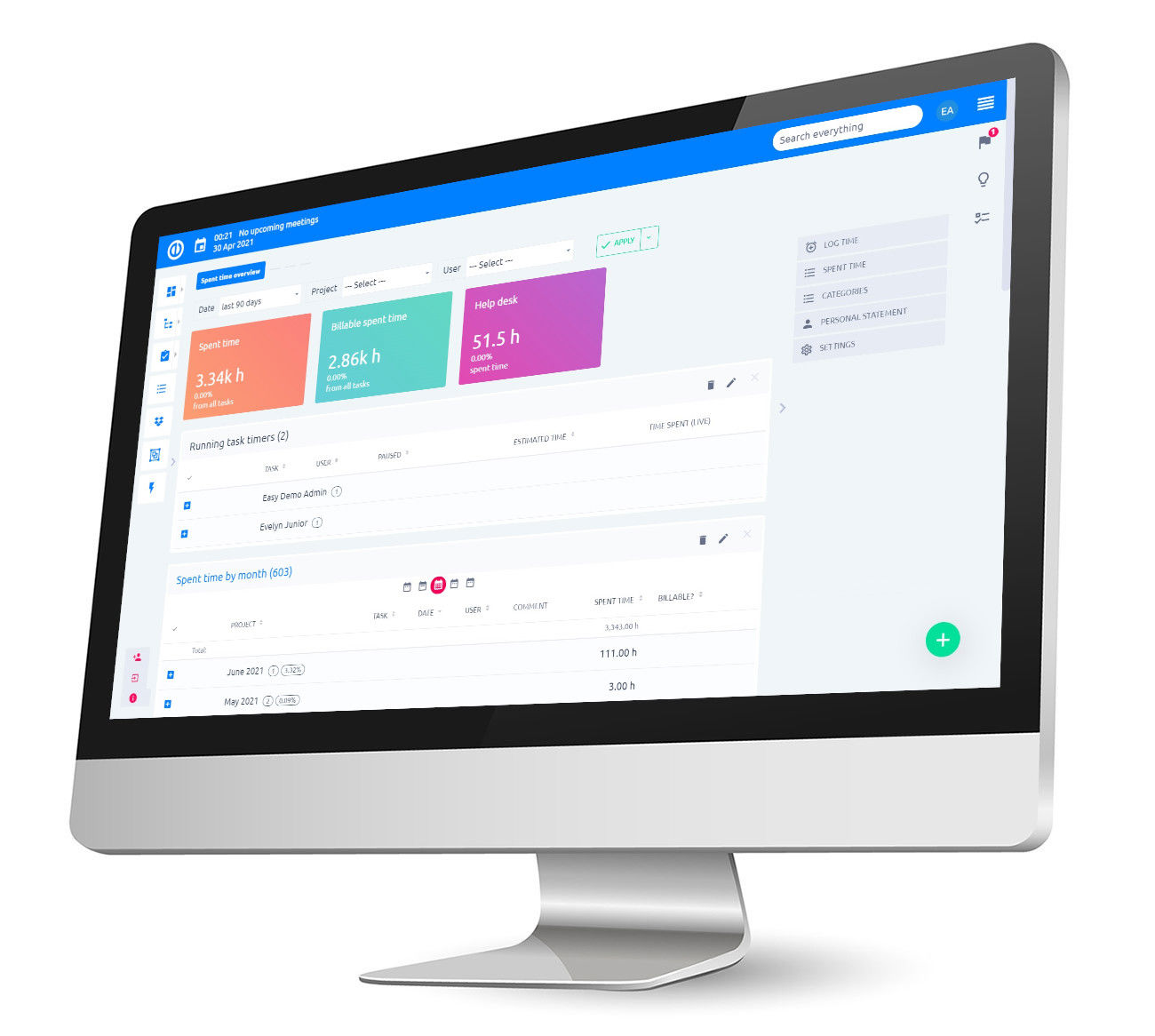 Trusted worldwide
Features of Redmine Time Tracking plugin by Easy
| | |
| --- | --- |
| Time tracking by projects / tasks / users / activities | |
| Easy time logging by workers | |
| Exports - create custom and exportable reports (CSV, XLSX, PDF) | |
| User friendly approach - 7 ways of logging time | |
| Stopwatch funcionality | |
| | Start Free Trial |
Easy Time Tracking - your gateway to Easy Redmine solution
Essentials
Easy Redmine
Complete & extensible Redmine upgrade
Easy Redmine is a complete and extensible Redmine upgrade. Combination of new mobile design with useful plugins & features will make you enjoy your project management, improve communication & user experience and save your time. It is extensible with plugins for Resource, Agile, Finance, CRM, Help Desk and more.
More features of Redmine Time tracking by Easy
Log time is one of the most common operations. Therefore if you improve the process of logging, it will significantly upgrade your efficiency.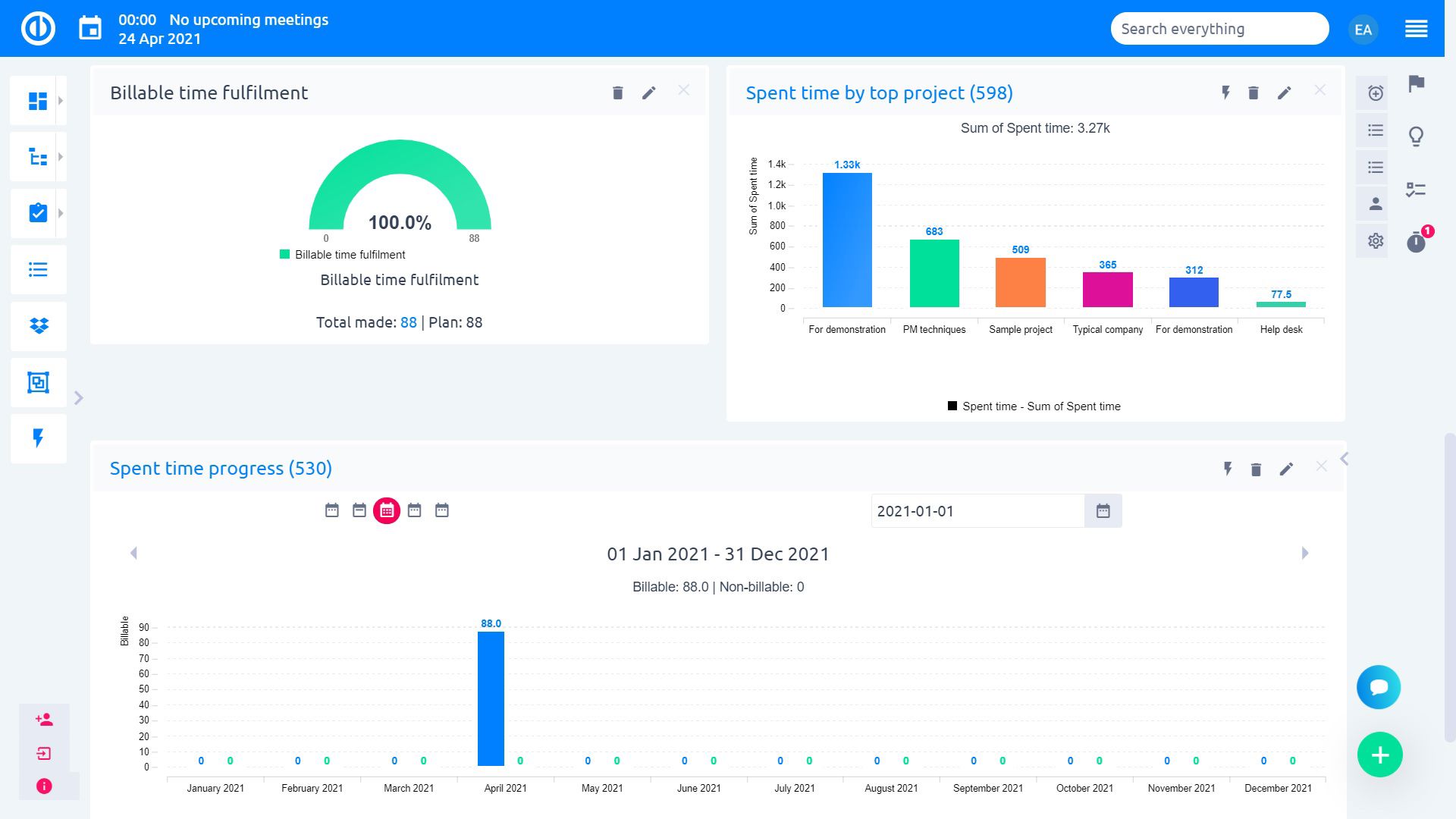 Exports & Timesheets
Redmine time tracker plugin allows you to create advanced exports that can be valuable resources for your decision making since we all know that you can improve something only if you are able to measure/quantify it. Redmine time reports and timesheets are a great resource for your billing or invoicing as well. Currently available export formats: CSV, XLSX, PDF.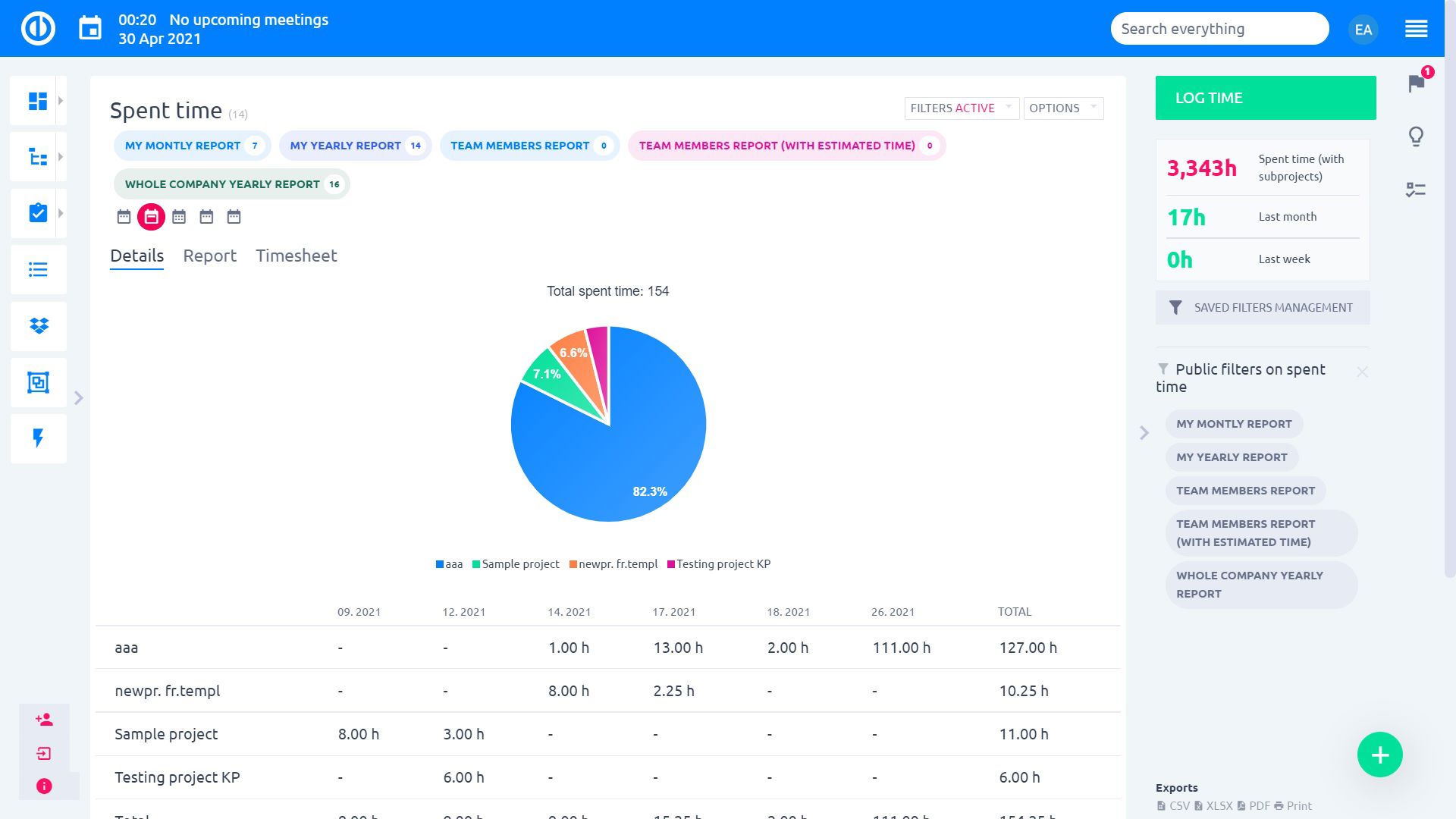 Ultimate Redmine time tracking solution
Redmine Time Tracking developed by Easy is the ultimate and only time tracking solution you will ever need - mainly due to advanced functions and ability to log time basically from every level of user interface. It's easy and obvious - log time easily, get a better insight and overview about spent time and thus reach higher efficiency.

How do users see it?
"Easy Redmine met our needs out of the box. The product is feature rich and the price is low compared to products with similar features. We are satisfied with the performance of the product and would not hesitate to choose it again."
"We use Easy Redmine to simplify our work in managing projects. We made a few tweaks ourselves to this Open source application but we are overall very satisfied."
IPMA & PMI standards compatible
SHINE Consulting Ltd.- holder of accreditation of the Project Management Training Program "Project Management in Practice" (International Standard IPMA) and is also a member of the PMI R.E.P. Registered Education Provider. **The PMI Registered Education Provider logo is a registered mark of the Project Management Institute, Inc.