Redmine Test Cases plugin
Complete test management
All testing methodologies right in your Redmine!
First Redmine solution on Rails 6
Upgradable from all Redmine versions
100% Open Source
Test Smarter, Work Faster...

Test cases plugin is a great tool that helps with repetitive processes and testing stories/scenarios. Therefore it can be a huge help for IT companies with running their tests as well as for other industries (i.e. very popular and useful for the automotive industry).
Its a complete test management for all testing methodologies. Explore plugin in Easy Redmine free trial.

Trusted worldwide
Features of Redmine Test Cases plugin by Easy
| | |
| --- | --- |
| Scenario description field | |
| Expected results field | |
| CSV import | |
| Test case issues executions | |
| Related tasks | |
| | Start free trial |
Easy Test Cases - your gateway to Easy Redmine
Essentials
Easy Redmine
Complete & extensible Redmine upgrade
Easy Redmine is a complete and extensible Redmine upgrade. Combination of new mobile design with useful plugins & features will make you enjoy your project management, improve communication & user experience and save your time. It is extensible with plugins for Resource, Agile, Finance, CRM, Help Desk and more.
More about features of Redmine Test Cases plugin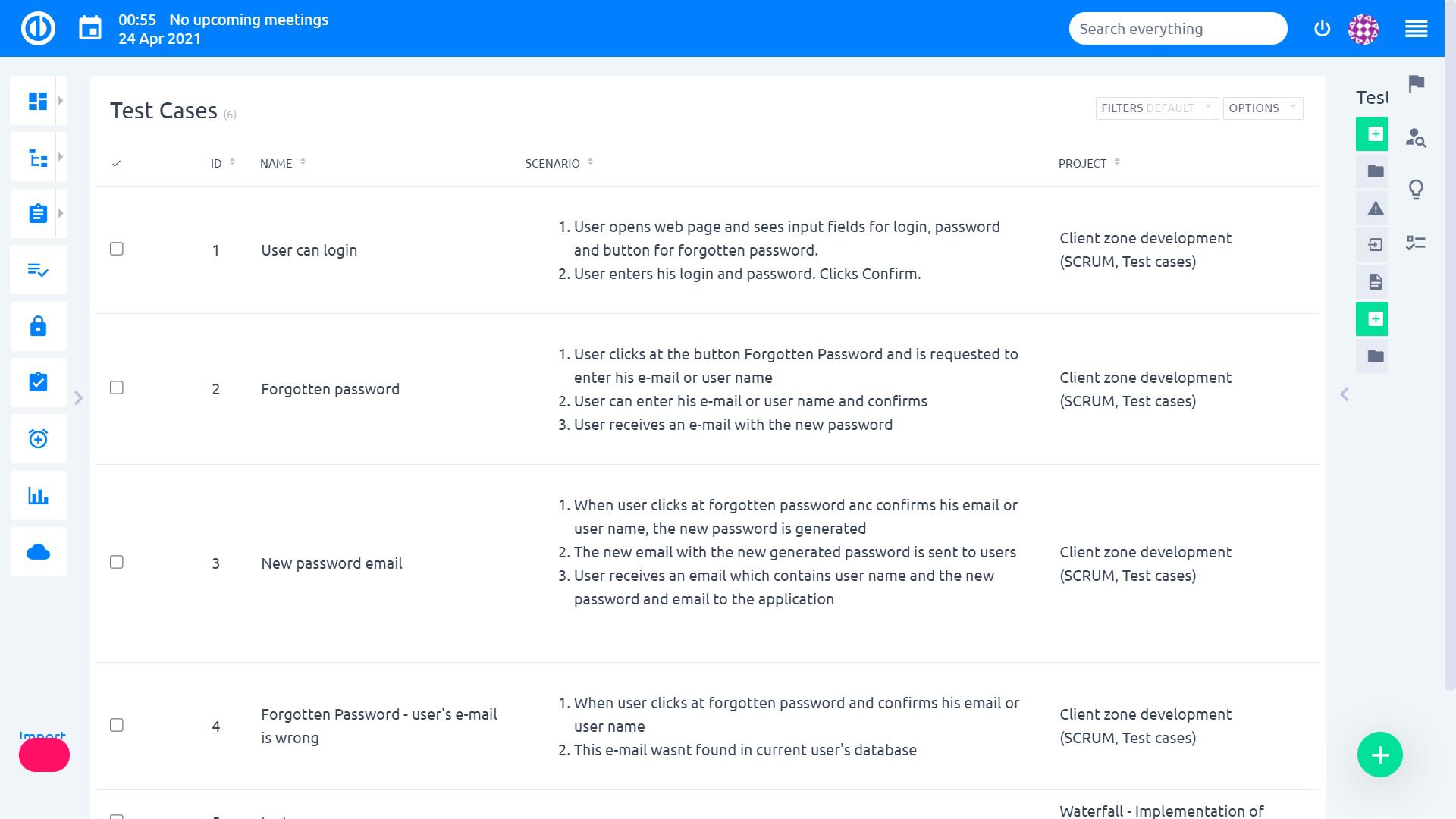 Global level of Test Cases
On the global level of the Redmine test management plugin, you see the list of all created test cases and test case executions across all projects in Easy Redmine. Here you can edit the existing ones by clicking on Edit button in the list, add test case execution or delete selected test cases using the particular button with trash icon. Above the list, you can find standard options such as filters, custom formatting and other options to modify the list and data shown.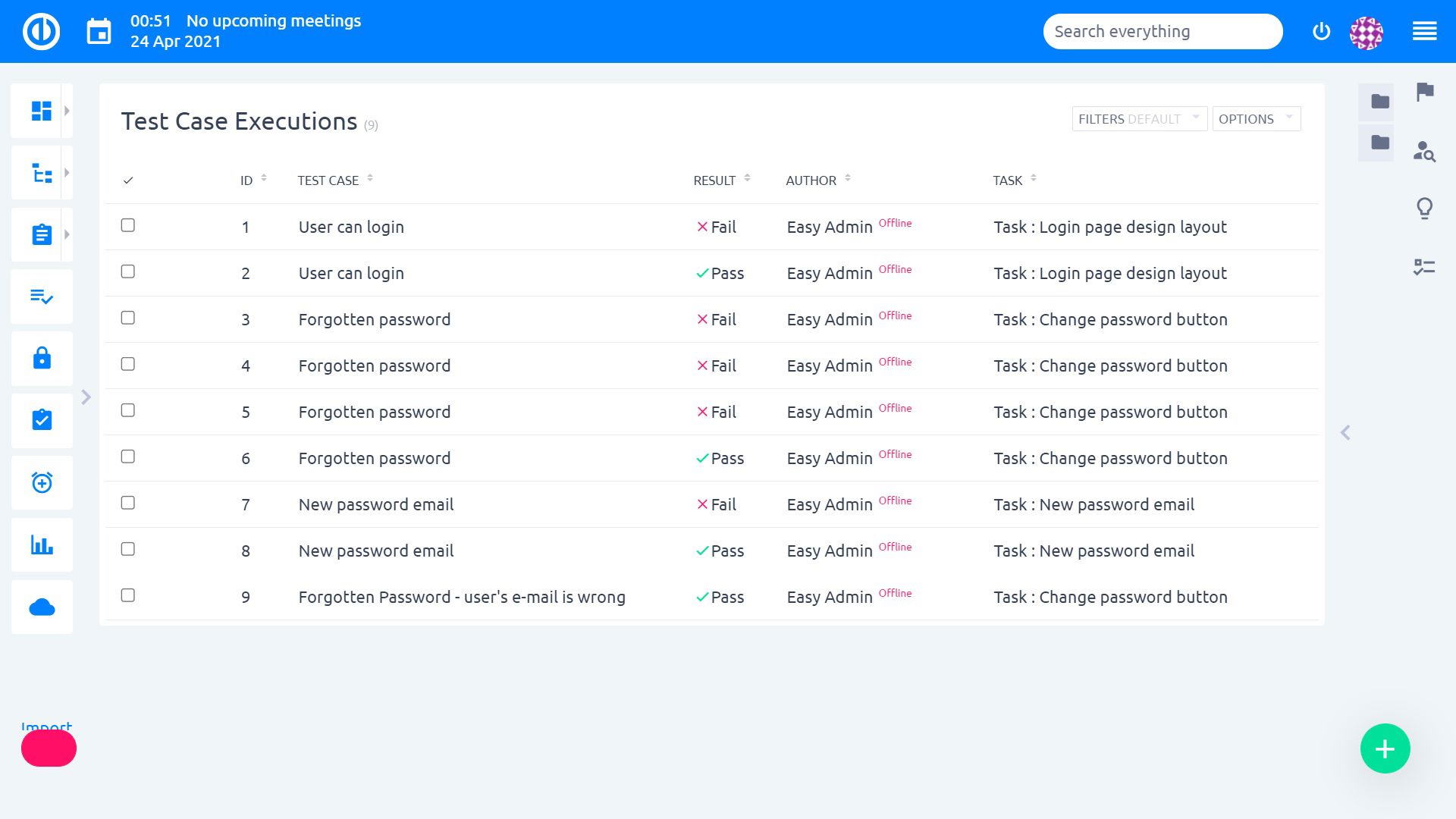 Project level of Test Cases
On the project level of the Redmine testing plugin, you find the list of test cases and test case executions for a particular project where you can edit or delete them. When you open a task related to a test case, you can find there two sections called Test Cases and Test Case executions. So you can easily access test cases also from related tasks without the need to open their list on a project or globally.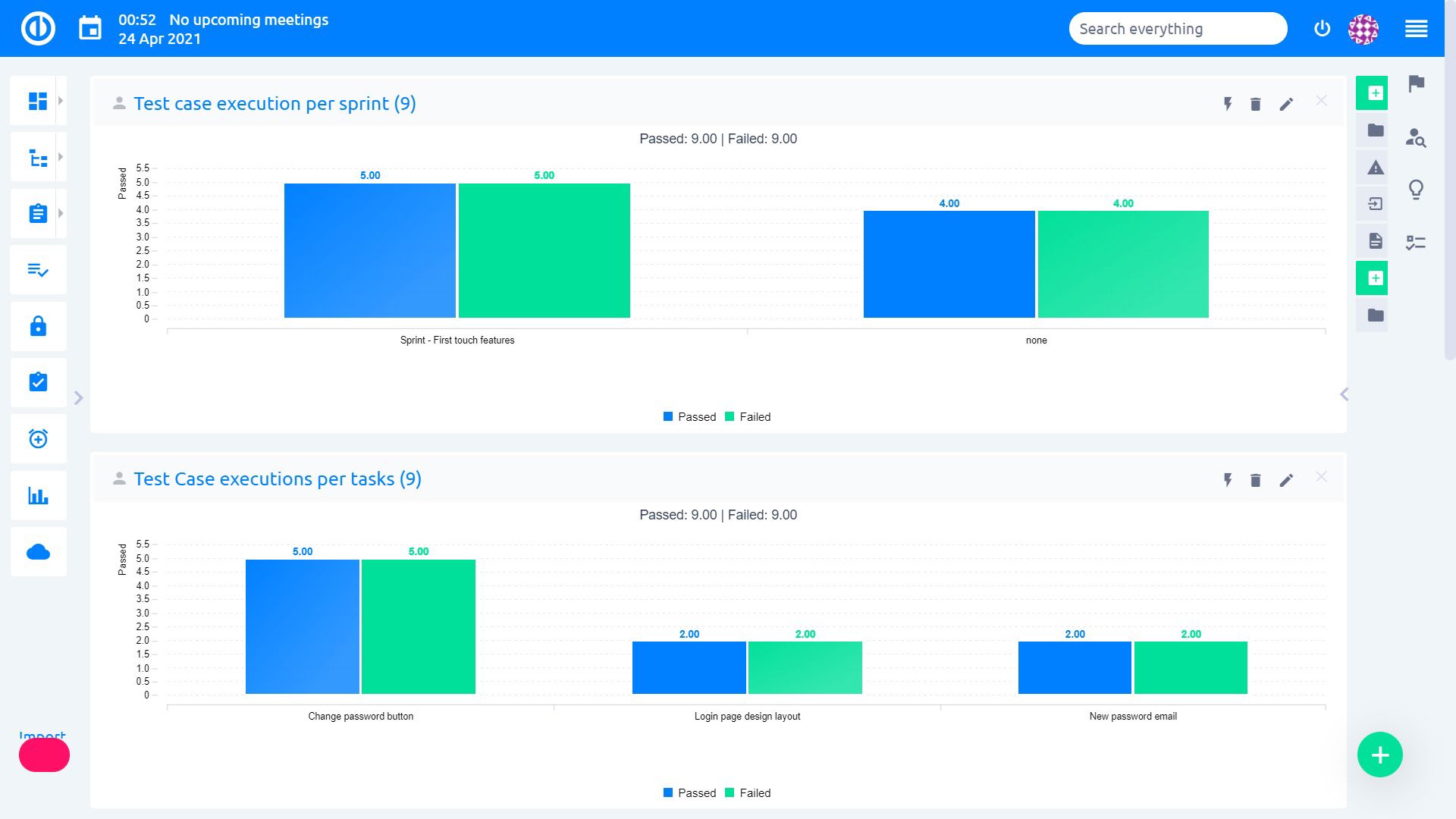 Test Case Executions
Test case execution is the process of executing the code and comparing the expected and actual results. Individual instances of these executions are created each time a testing process takes place. A single test case can include an unlimited number of test case executions. The very first test case execution is always created automatically along with a new test case.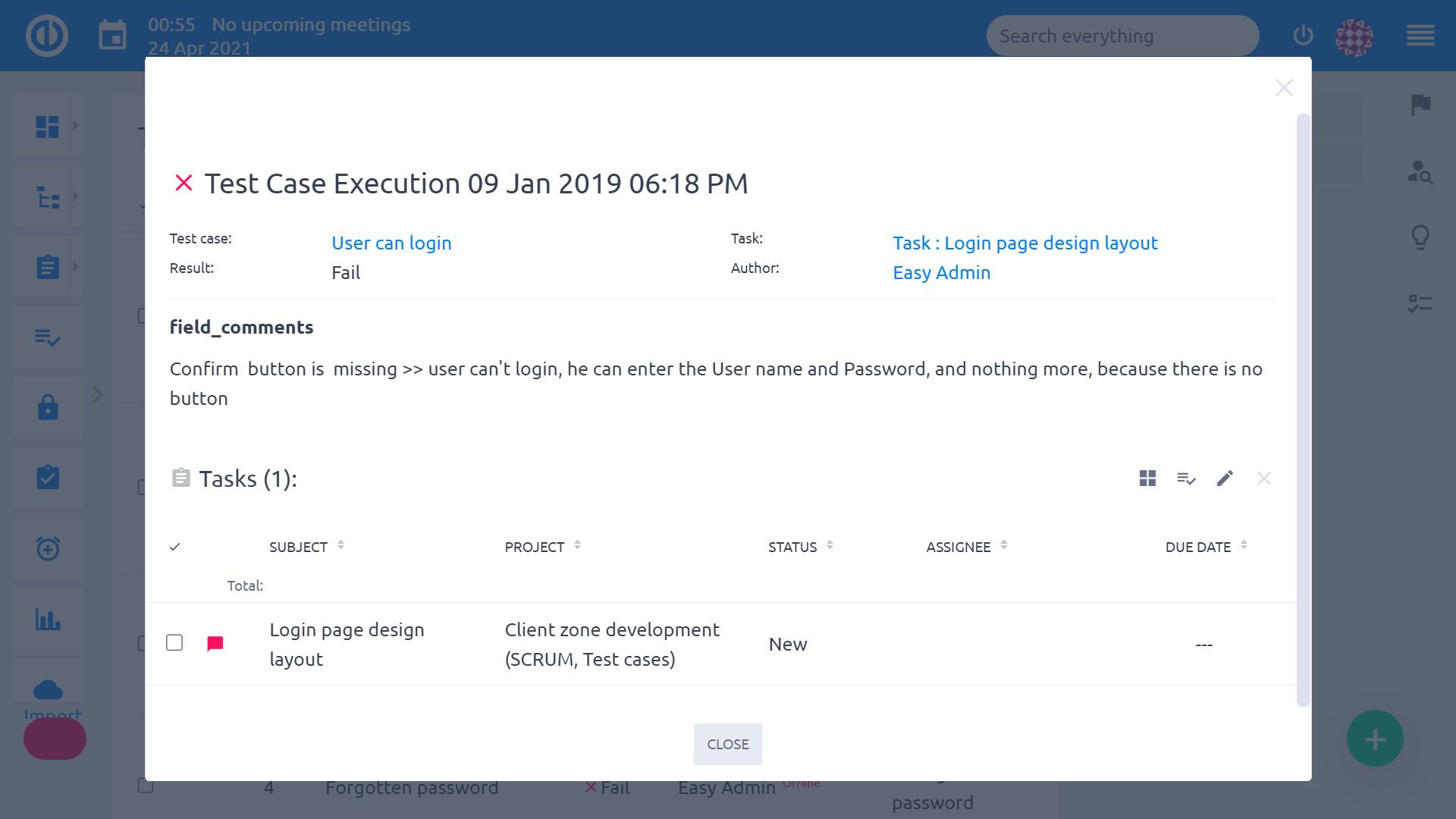 Adding custom fields
If you miss any data fields within the Redmine test management plugin, you can simply add them as custom fields. This helps to ensure that no data will be missing and that all your test cases will perfectly fit the needs of your entire test management process.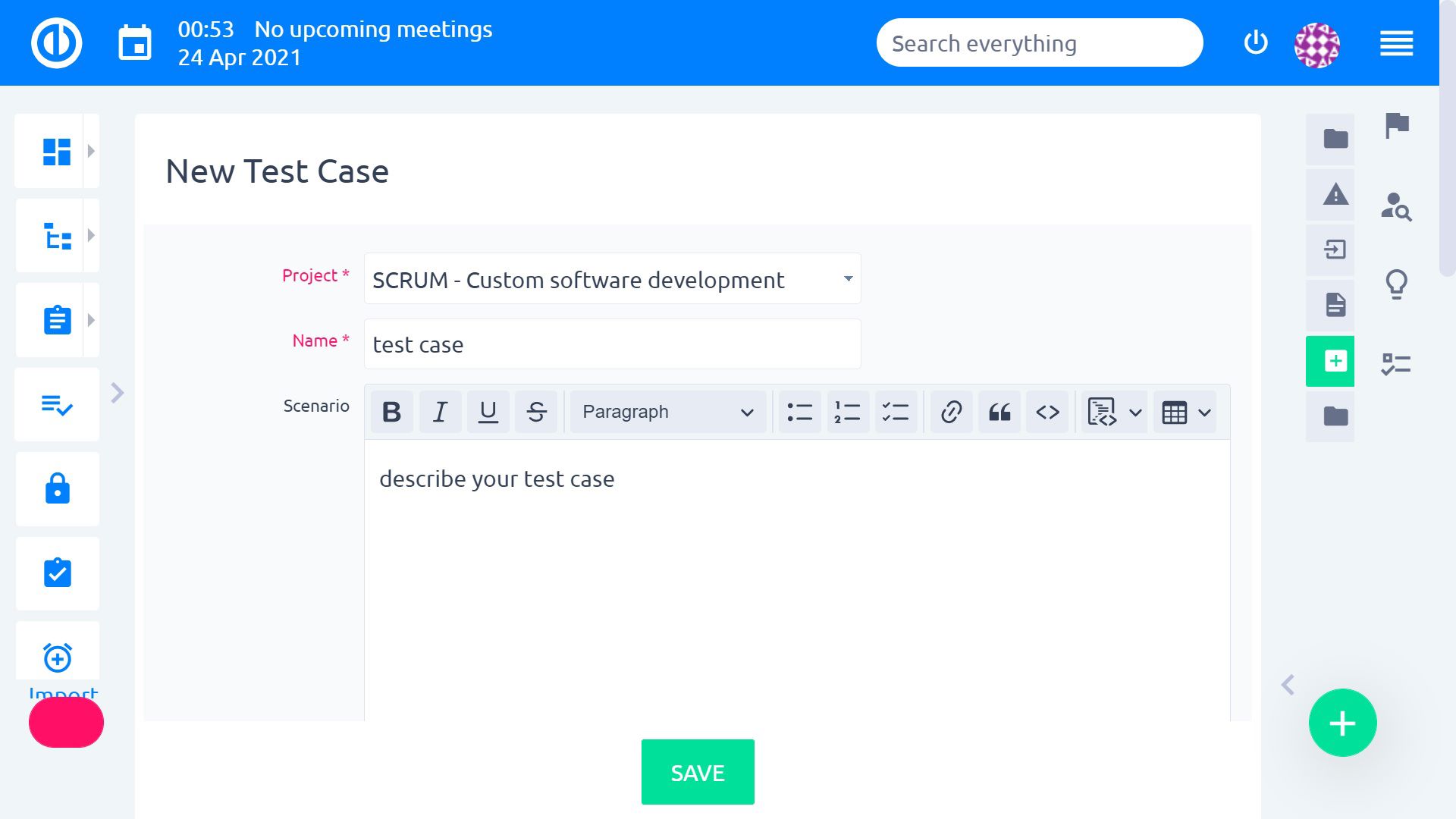 CSV/XML import
This feature is intended to easily import test cases from a different test management software into the Redmine testing plugin. It supports both CSV and XML import. Please note that the importer is intended for trained staff only and is not supported as a standard feature. With the request for a premium training session, write us at support@easyredmine.com.

How do users see it?
"Easy Redmine met our needs out of the box. The product is feature rich and the price is low compared to products with similar features. We are satisfied with the performance of the product and would not hesitate to choose it again."
"We use Easy Redmine to simplify our work in managing projects. We made a few tweaks ourselves to this Open source application but we are overall very satisfied."
IPMA & PMI standards compatible
SHINE Consulting Ltd.- holder of accreditation of the Project Management Training Program "Project Management in Practice" (International Standard IPMA) and is also a member of the PMI R.E.P. Registered Education Provider. **The PMI Registered Education Provider logo is a registered mark of the Project Management Institute, Inc.