Redmine Calendar plugin
All-in-one calendar for tasks, meetings, attendance & CRM
Have control over your tasks, meetings, attendance, CRM activities, and resources on a single calendar screen.

First Redmine solution on Rails 6
Upgradable from all Redmine versions
100% Open Source
The best task management for your Redmine projects
The Calendar plugin is a drag and drop calendar that shows all meetings, to-dos, planned resources, attendance, and spent time entries. It's quickly becoming the most used plugin by our clients because it gives an ultimate and instant overview of what is going on for both regular workers and managers.
Key features:

All-purpose drag-and-drop calendar
Quick task allocation and update
Personal and managerial views with different permissions
Can be added to any personal dashboard
The Agenda view shows the journal of all planned activities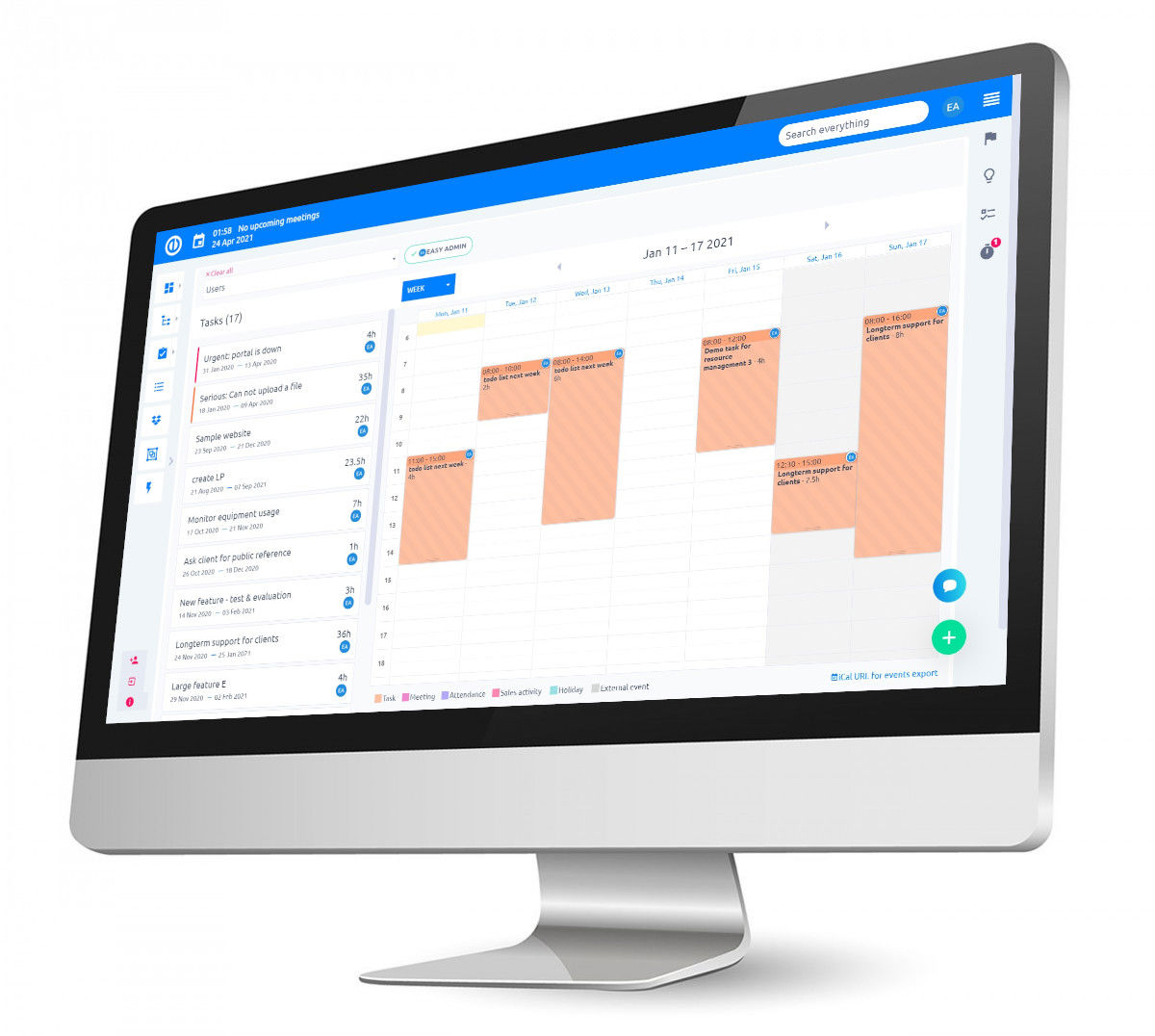 Trusted worldwide
Features of Redmine Calendar by Easy
| | |
| --- | --- |
| Easy drag and drop task management | |
| Calendar interface with day/week/month view | |
| Create new events directly from Calendar | |
| Can be added to any personal dashboard | |
| Task filters and search | |
| Personal and managerial view | |
| | |
Calendar by Easy - your gateway to Easy Redmine
Essentials
Easy Redmine
Complete & extensible Redmine upgrade
Easy Redmine is a complete and extensible Redmine upgrade. Combination of new mobile design with useful plugins & features will make you enjoy your project management, improve communication & user experience and save your time. It is extensible with plugins for Resource, Agile, Finance, CRM, Help Desk and more.
More features of Redmine Calendar by Easy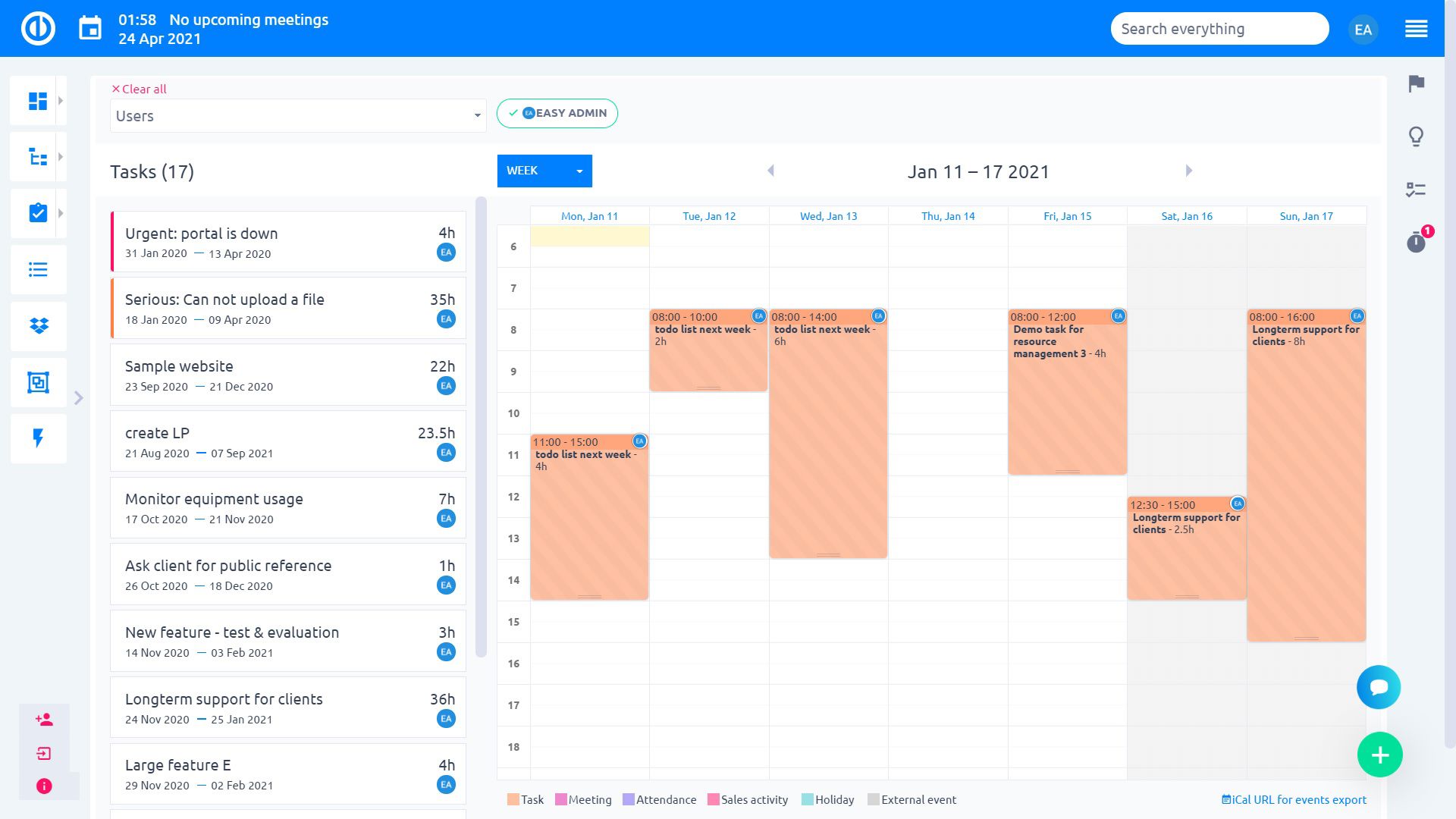 Task planning and allocation in a calendar
Using Calendar, you can plan and allocate tasks right in your own or other users' calendars. Therefore, you instantly see when a user is busy with other planned events, such as meetings, sales activities or other task allocations. Moreover, you also see the users' attendance, which prevents you from planning tasks for time of their unavailability.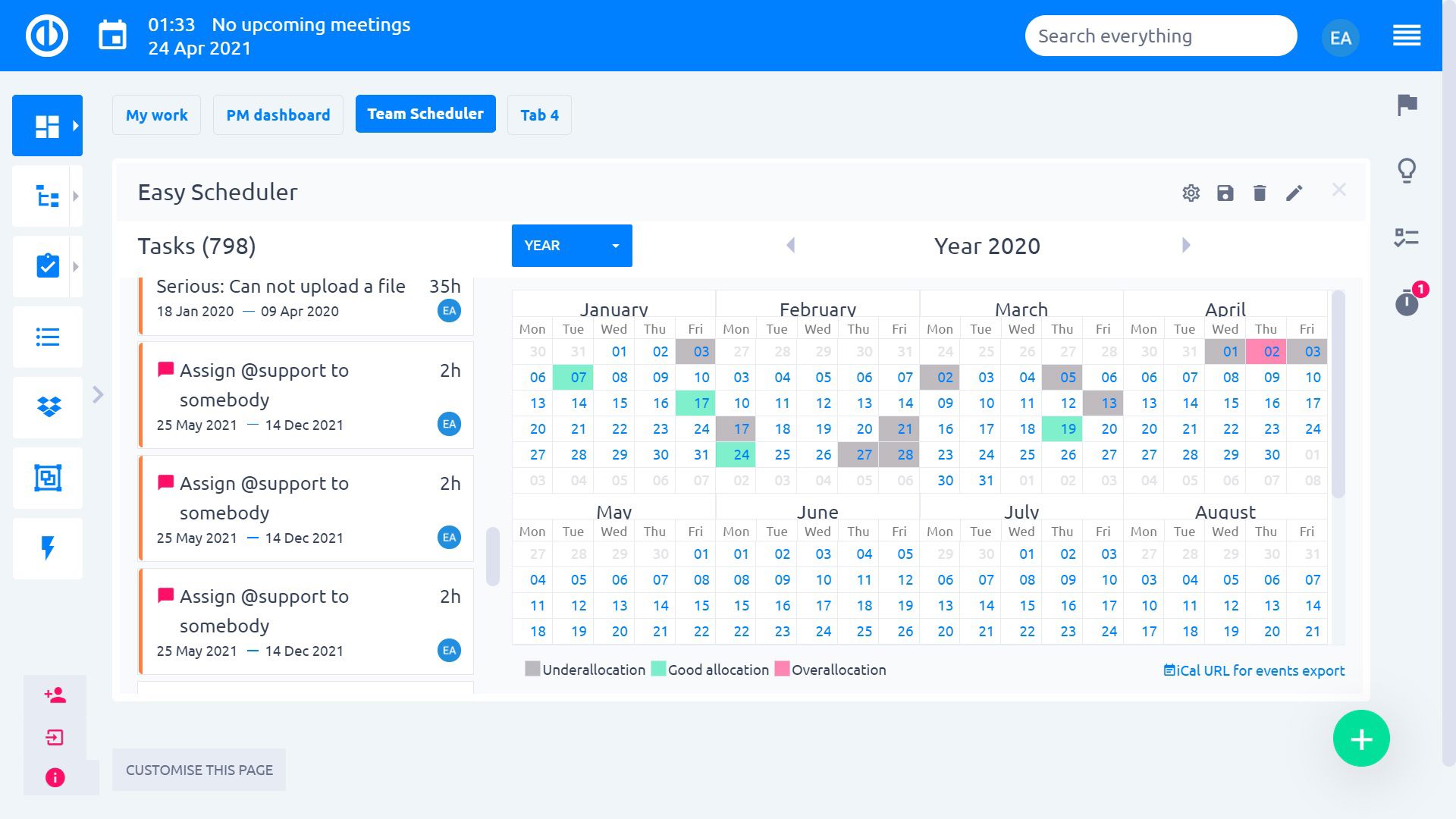 Switchable calendar and agenda views
To extend or reduce the length of task allocation in the calendar daily/weekly view, simply move the bottom border of the task up and down with your left mouse button. To switch the time view of the calendar, use the respective drop-down list just above the calendar (today, day, week, month, year, agenda). The Agenda view is a feature that shows the journal of all planned activities.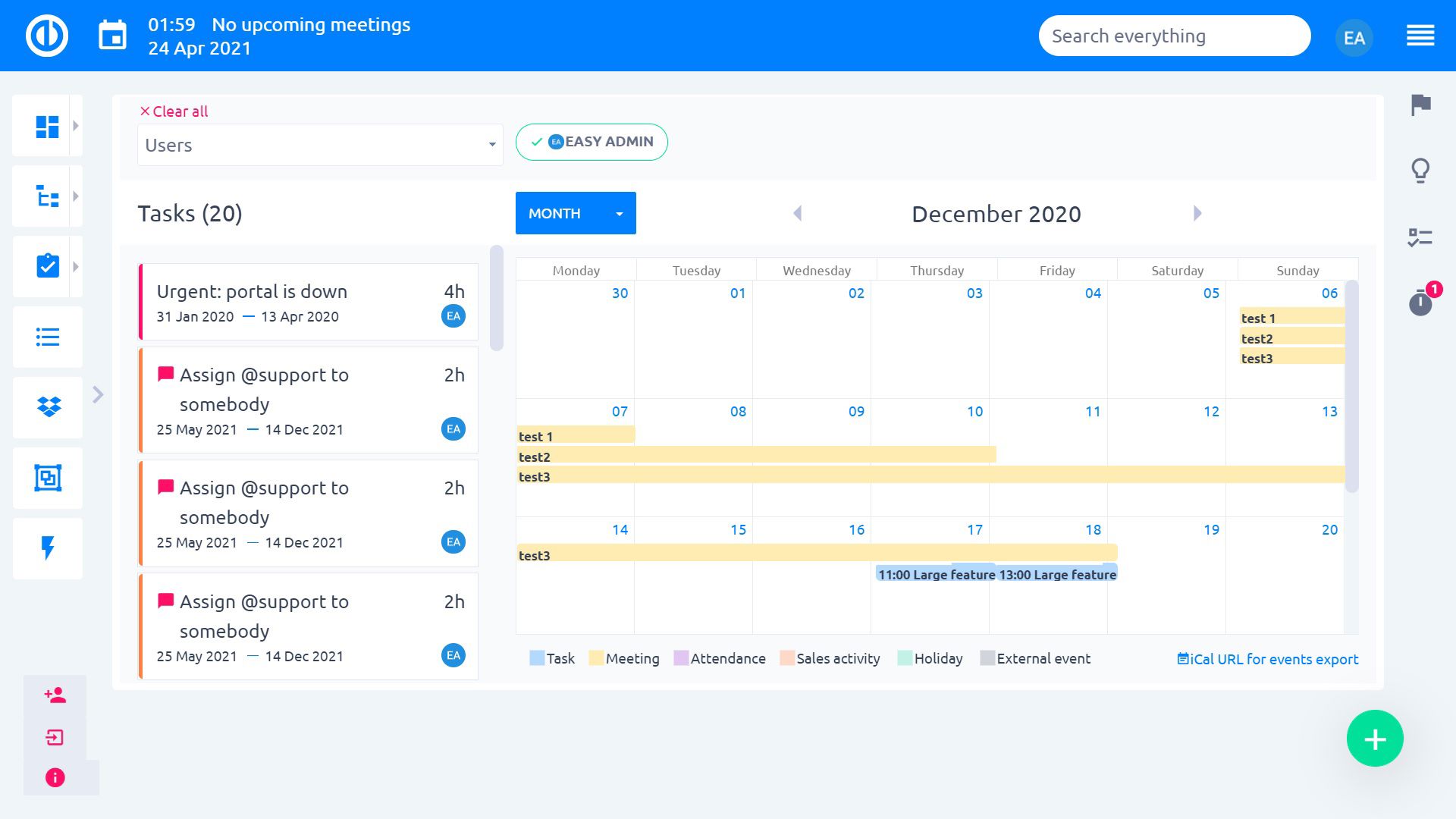 Filter tasks and users
To see only the appropriate tasks you need to schedule, just use the "Filters" menu for that purpose. You can save your filters as tags in the heading (upper left corner), which makes it easy to apply the right filter with one click only. Just as easily, you can select the users who you need to allocate the tasks to (from the Users menu).

How do users see it?
"Easy Redmine met our needs out of the box. The product is feature rich and the price is low compared to products with similar features. We are satisfied with the performance of the product and would not hesitate to choose it again."
"We use Easy Redmine to simplify our work in managing projects. We made a few tweaks ourselves to this Open source application but we are overall very satisfied."
IPMA & PMI standards compatible
SHINE Consulting Ltd.- holder of accreditation of the Project Management Training Program "Project Management in Practice" (International Standard IPMA) and is also a member of the PMI R.E.P. Registered Education Provider. **The PMI Registered Education Provider logo is a registered mark of the Project Management Institute, Inc.