Easy Redmine Testimonials
"Easy Redmine has allowed us to take control of our projects, become more efficient and have insight into projects that we haven't had in the past. The support staff at Easy Redmine have assisted us in developing ways to meet our unique business needs."
"We adopted Easy Redmine six months ago in order to control all of our web projects.
We are very happy as we now have a complete overview in terms of control of costs and staffing resources and we also have a powerful tool for interaction with our customers."
"You have presented very good video. This type of software are much demanded in the market now. They not only saves time, but also gives accurate results. Thanks for your video tutorials and please upload more videos."
"Akquinet is using Redmine for years. We love all the extra plugins and support that Easy Redmine delivers to let us focus on our job."
"Easy Redmine theme meets all our requirements and have nice & user-friendly interface that just simplifies our project and process management."
"We implemented Easy Redmine as SimulationData Management tool. Learning on how code is created, managed, and maintained, we applied the same approach to CAE and simulations. With Easy Redmine, GKN Automotive Global CAE gains from the integration of all relevant data to where they are needed and so to easy up the global resource and knowledge management."
"I worked with Petr from Company Solutions. He assisted us through the entire process of configuring our Easy Redmine Project Management and Helpdesk setup. He also coordinated the migration of our Jira service desk and an on-premise instance of Redmine our development team was using. There were little bumps in the implementation but overall Petr worked with me to ensure that the project came to a successful closure and that we had a successful go-live. He definitely put in the hours to make this happen."
"Easy Redmine met our needs out of the box. The product is feature rich and the price is low compared to products with similar features. We are satisfied with the performance of the product and would not hesitate to choose it again."
"We use Easy Redmine to simplify our work in managing projects. We made a few tweaks ourselves to this Open source application but we are overall very satisfied."
"Easy Redmine fulfilled our main requirements. Planning of projects and relating processes are smoother while the current systems is still running. The REST API and an integration with our IS were the main advantages for us."
"Easy Redmine helps us a lot. We can utilize our employees with Resource Management plugin very well and we have also bought other plugins which we use for tracking of project costs and incomes."
"It was one of the most stressful maintenance windows I've ever attended – and your EasyRedmine made it really, really smooth. A key element to our success! Congrats! Thank you!"
Trusted worldwide
What users say about Easy Redmine on Capterra?
Easy Redmine on Capterra overall 4.5/5 (57 reviews)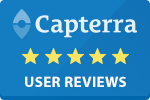 How is Easy Redmine evaluated by users who have upgraded from Redmine?