Redmine Help Desk plugin
More than 300,000 Redmine users are supported via this Help Desk solution by Easy – find out why.
The newest upgrade brings even more powerful features like new SLA reports, quick replies, automatic follow-ups, dashboards, and more.
First Redmine solution on Rails 6
Upgradable from all Redmine versions
100% Open Source
Trusted worldwide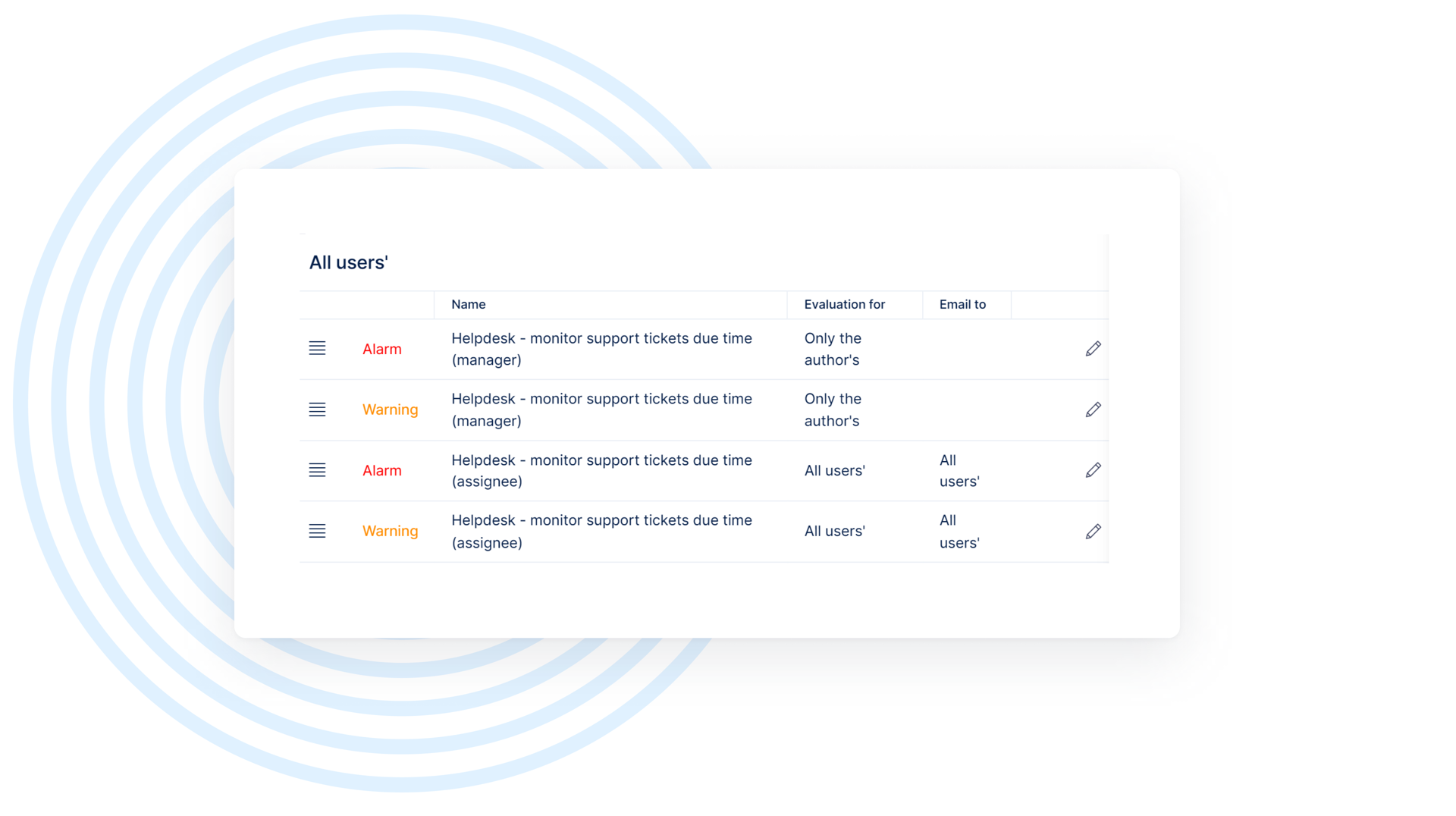 Help Desk – all you need for professional support is here
The best Redmine Help Desk is here! Users' feedback was taken into account and the Easy Redmine Help Desk got a few missing features that make it complete a Help Desk tool now.
Streamline all customer processes. Set your SLAs and provide your clients with top quality support and increase their satisfaction using Easy Redmine Help Desk.

How do users see it?
"Easy Redmine met our needs out of the box. The product is feature rich and the price is low compared to products with similar features. We are satisfied with the performance of the product and would not hesitate to choose it again."
"We use Easy Redmine to simplify our work in managing projects. We made a few tweaks ourselves to this Open source application but we are overall very satisfied."
Features of Redmine Help Desk plugin by Easy
| | |
| --- | --- |
| Tickets from e-mail or simplified user interface | |
| Sorting of tickets into projects according to customer/products or keywords | |
| Automated e-mail notifications for clients during ticket processing | |
| SLA monitoring – time to respond, time to solve, pre-paid hours, SLA fulfilment | |
| Reports per service project, client, product, territory, etc. | |
| Customizable performance statistics | |
| | Start free trial |
More features of Redmine Help Desk plugin by Easy
This is a bundle of Easy Redmine plugins that streamlines all customer processes. Set your SLAs and provide your clients with a top quality support and increase their satisfaction using Easy Redmine Help Desk. Try integrated Help Desk solution by Easy Redmine for improved customer care and smoother processing. There are two basic ways of creating tickets – from e-mail or from a simplified user interface. Tickets are stored in projects where you can define SLAs, pre-paid hours, transfer 'unused' hours and easily generate reports.

Dashboard
Ticketing System
Project Overview
Performance Evaluation
Easy Help Desk - your gateway to Easy Redmine
Essentials
Easy Redmine
Complete & extensible Redmine upgrade
Easy Redmine is a complete and extensible Redmine upgrade. Combination of new mobile design with useful plugins & features will make you enjoy your project management, improve communication & user experience and save your time. It is extensible with plugins for Resource, Agile, Finance, CRM, Help Desk and more.

Complex Settings for Redmine Help Desk
Using complex settings you can customize various parts of your Help Desk. For example, you can create email templates for auto-replies and corporate logos and signatures. You can also configure your projects for automatic ticket assignment and specify SLAs. Mailbox processing configuration allows POP3 and IMAP protocols, including folder support.
To help you with the configuration of your Help Desk, we have created an easy to follow manual. There you can find explanation of all the settings and detailed description of the terms used in the Help Desk by Easy Redmine. Follow the steps of our complex Redmine Help Desk cookbook to get your Help Desk up and running in no time!

IPMA & PMI standards compatible
SHINE Consulting Ltd.- holder of accreditation of the Project Management Training Program "Project Management in Practice" (International Standard IPMA) and is also a member of the PMI R.E.P. Registered Education Provider. **The PMI Registered Education Provider logo is a registered mark of the Project Management Institute, Inc.