Unlock the Power of Your Projects with Our Cutting-Edge Project Management Tool for CTOs
Easy Redmine is the choice for technology leaders of companies that strive for highly organized cooperation and results reporting.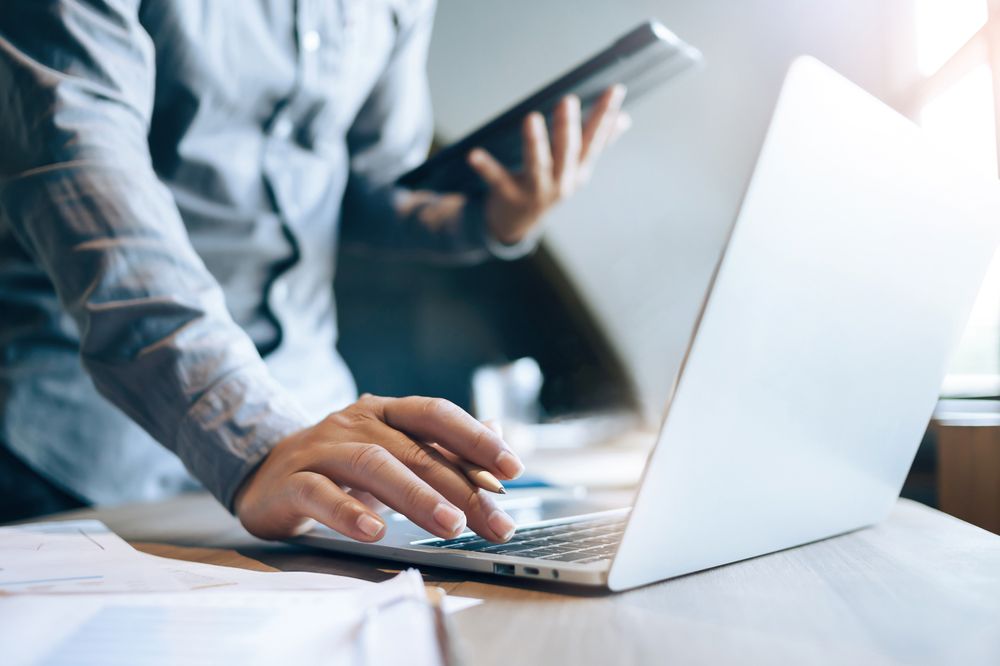 Are you in a CTO role?
As a CTO, you understand the critical role that effective project management plays in delivering successful outcomes for your organization. That's why we've developed a cutting-edge project management tool tailored specifically to meet the unique needs and challenges faced by CTOs like you.
What are the common fears of CTOs acquiring PM software?
Integration
Integration with the company's existing software and systems and overall tech stack.
Security of data
Organizations want to ensure that their project data, confidential information, and intellectual property are protected.
Data migration
Maintaining data integrity is essential to avoid any disruptions in ongoing projects and to preserve historical data for future reference.
Scalability
New software may not be scalable to accommodate the company's future growth, leading to the need to replace the software sooner than anticipated.
Customization
The new software may not be customizable to meet the company's specific needs.
Performance and Reliability
The new software may not perform as well as the company's existing software, leading to decreased productivity or slower response times.
Easy Redmine helps with these challenges
Integration
Easy Redmine is fully based on Redmine project management system. Integrate Easy Redmine with third-party systems using no-code and visual workflow automation. We do it for you. It is pretty simple and you save time. Connect to more than 1000+ third-party systems (Azure DevOps, GSuite, Salesforce, etc.). Guideline for integration possibilities on Make.com
Performance and Reliability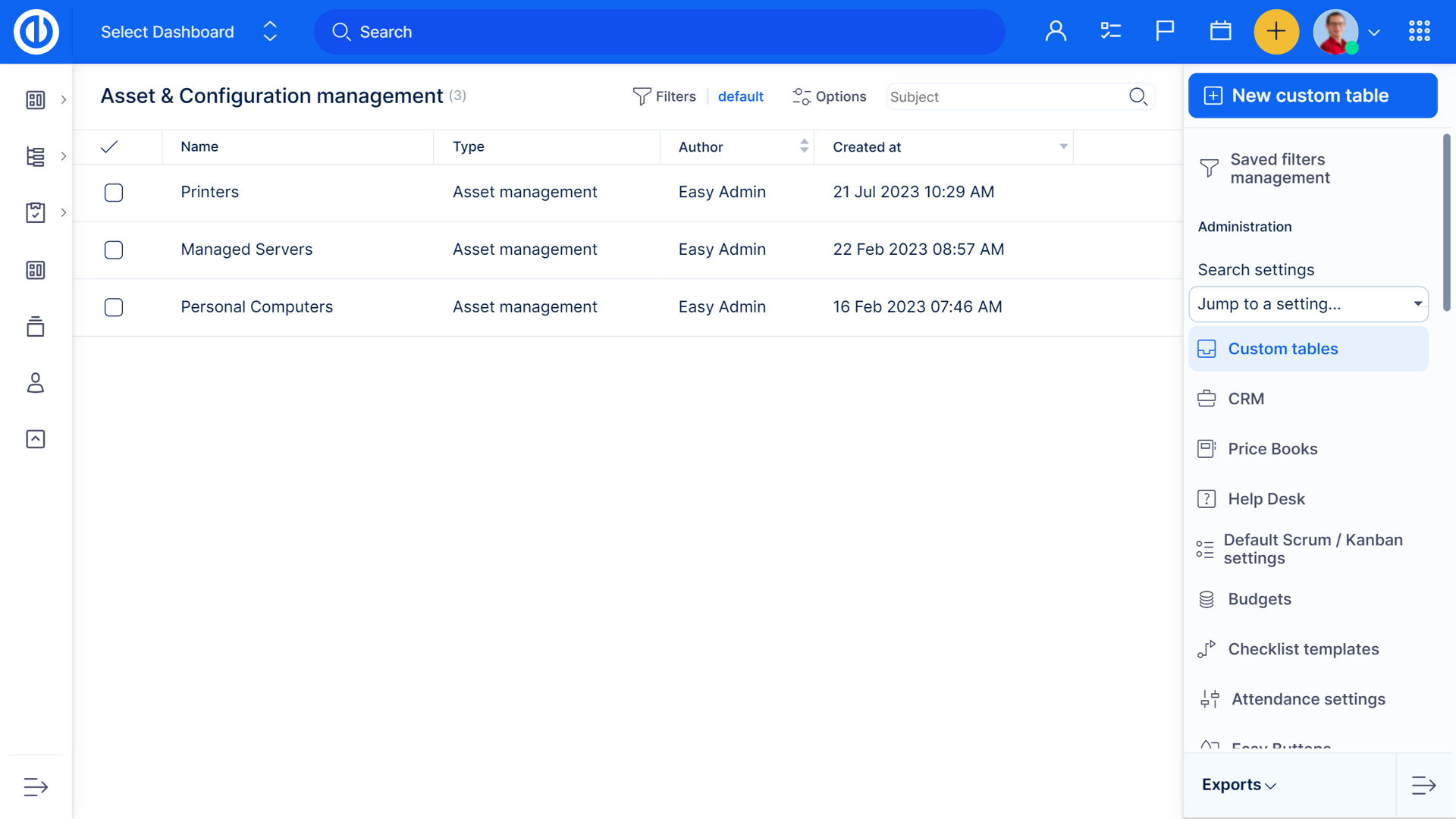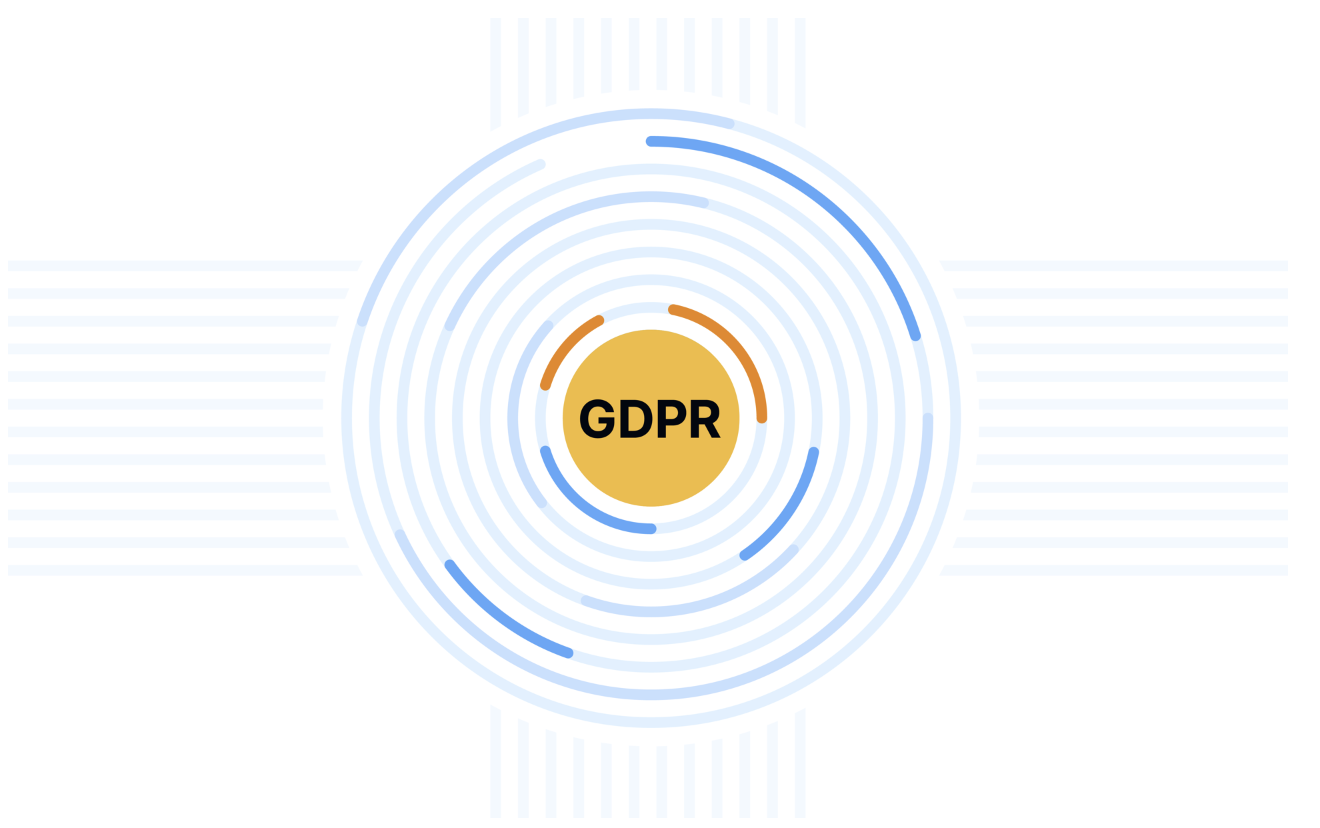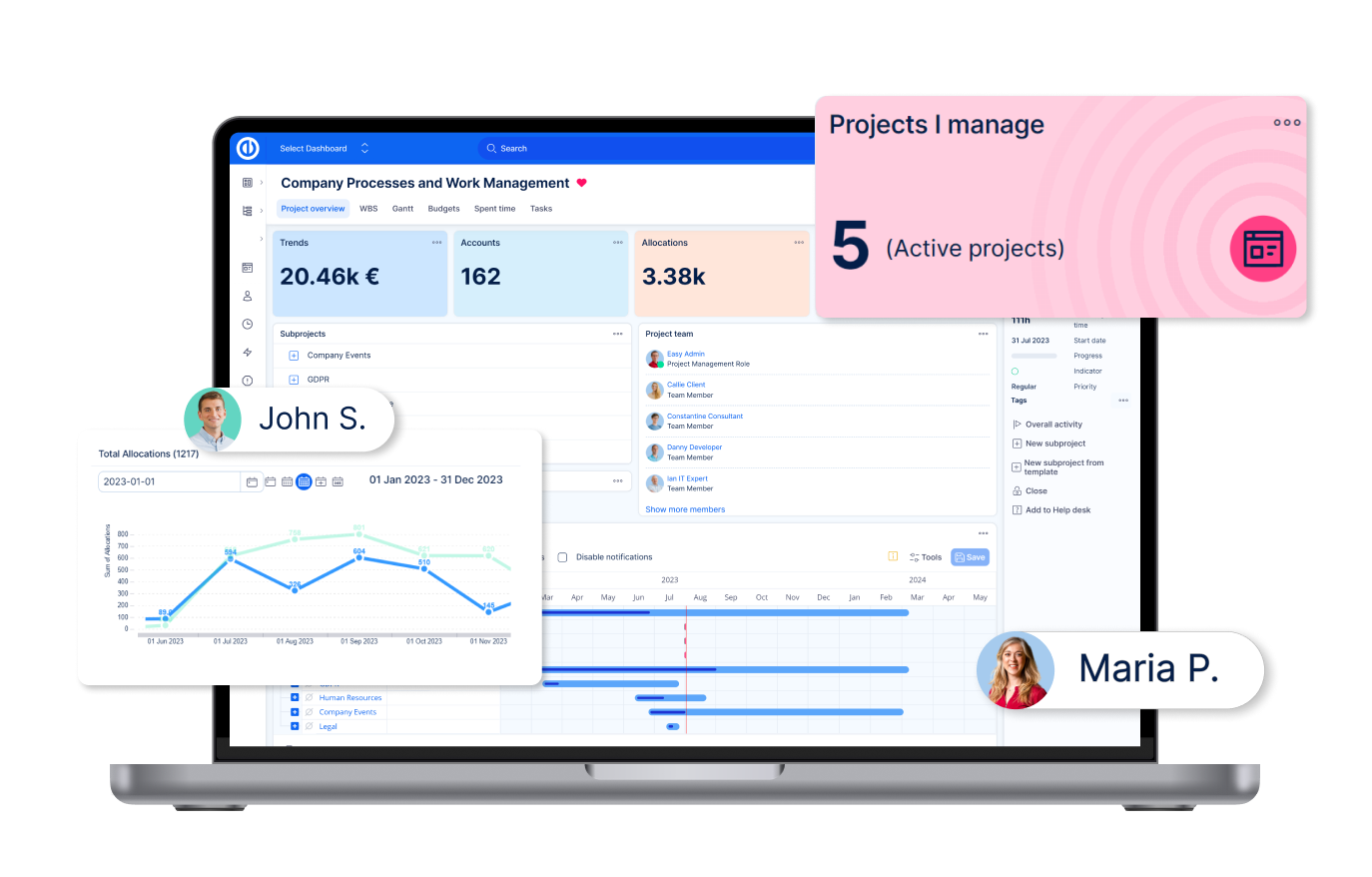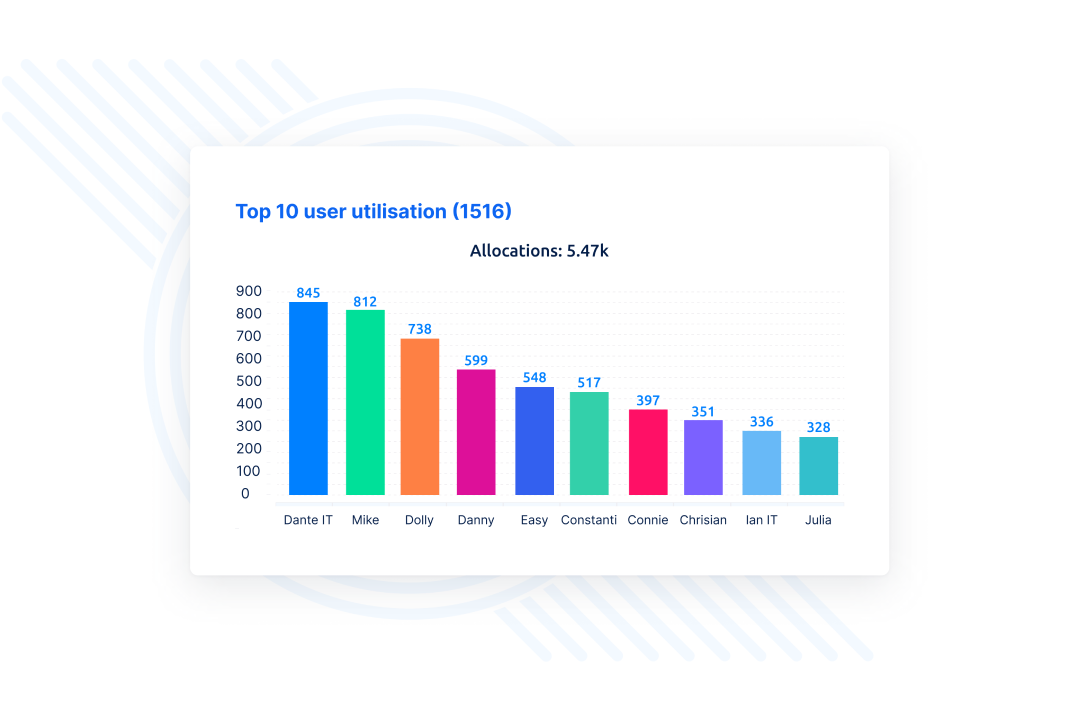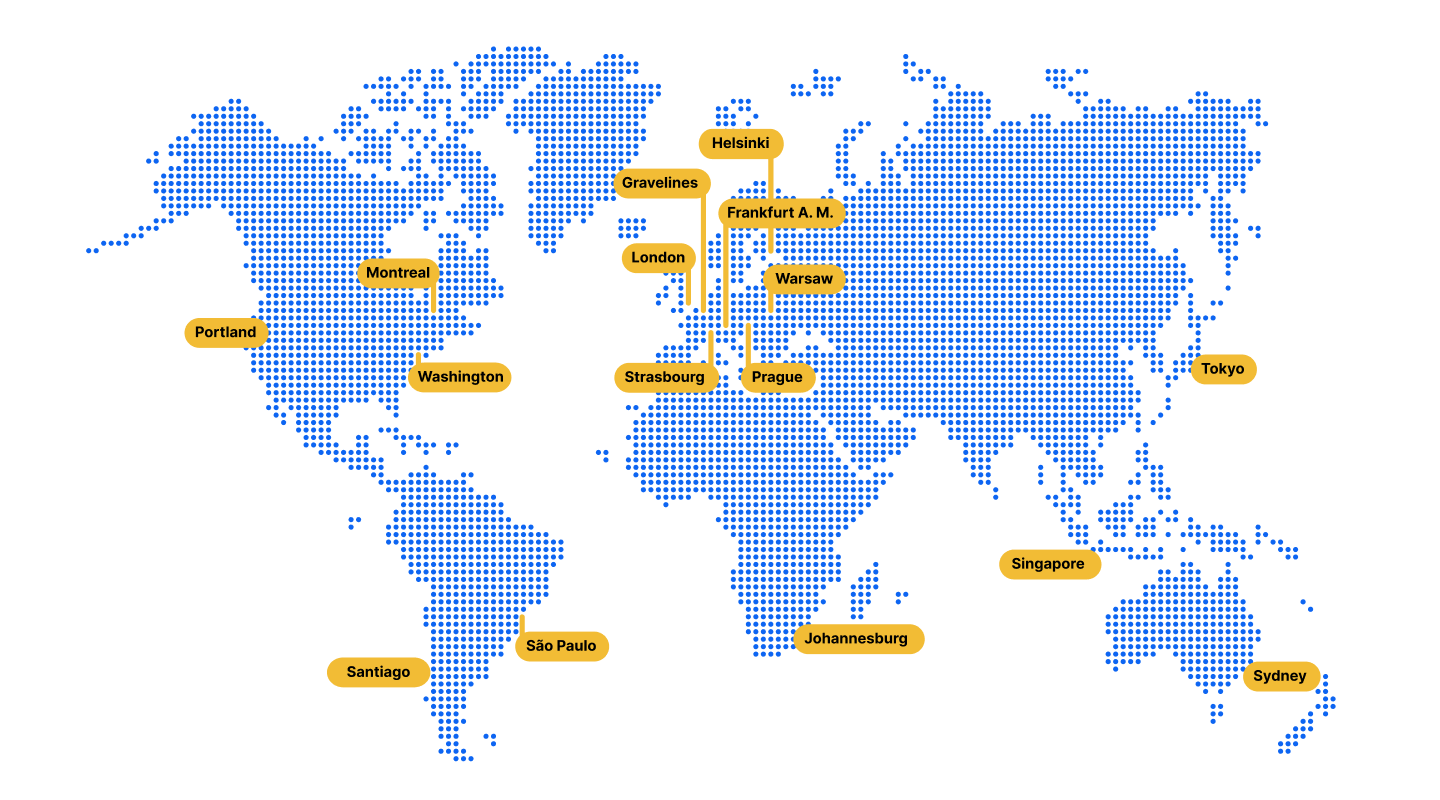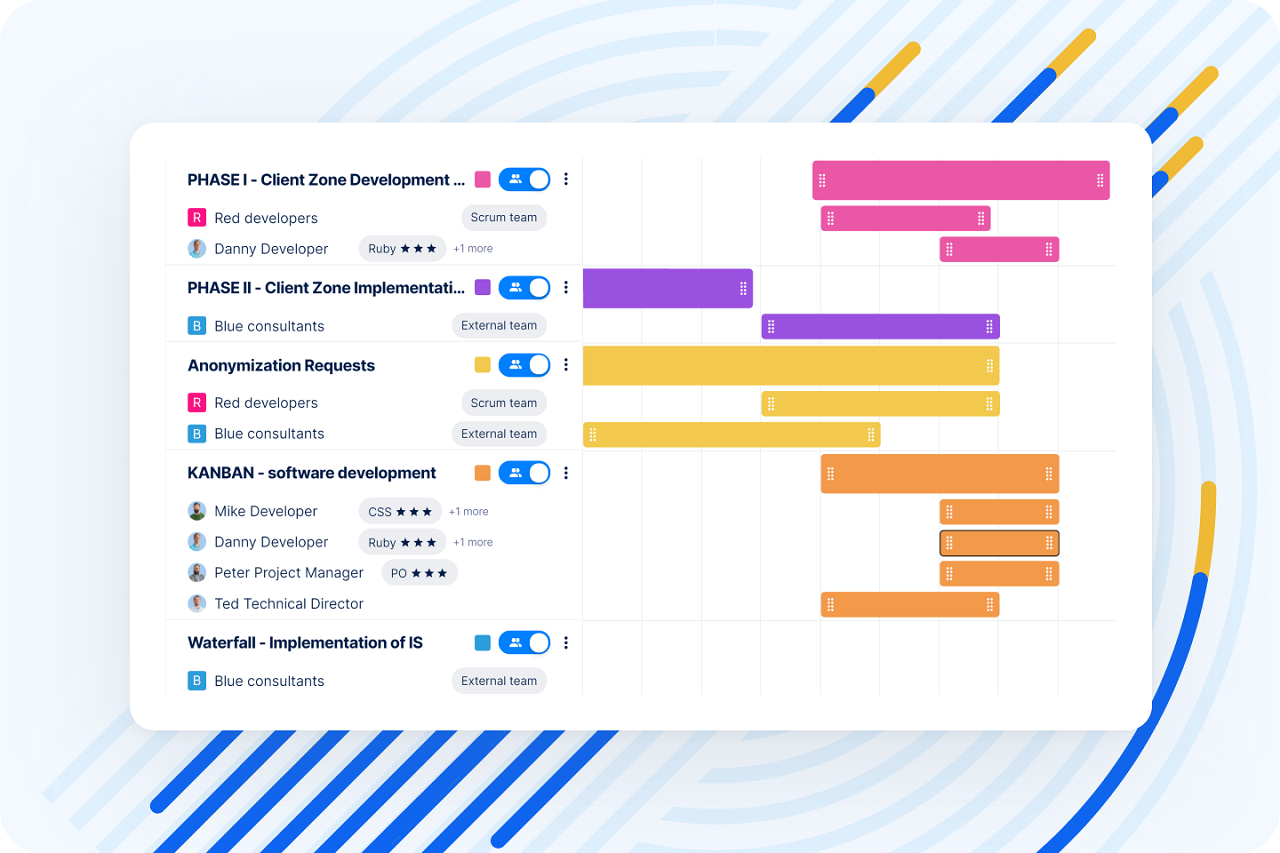 85+
85 partners in 26 countries
What about my daily tasks that have to be done?
Resource Management
CTO needs to assign team members to specific tasks, track their availability and workload.
Reporting and Analytics
Generate project status reports, track key performance indicators (KPIs), and analyze project data.
Collaboration and Communication
Often need features like file sharing, discussions, written updates, and notifications.
Project planning
CTOs use project management tools to plan and structure technology projects.
Here is one solution for all daily tasks that will be done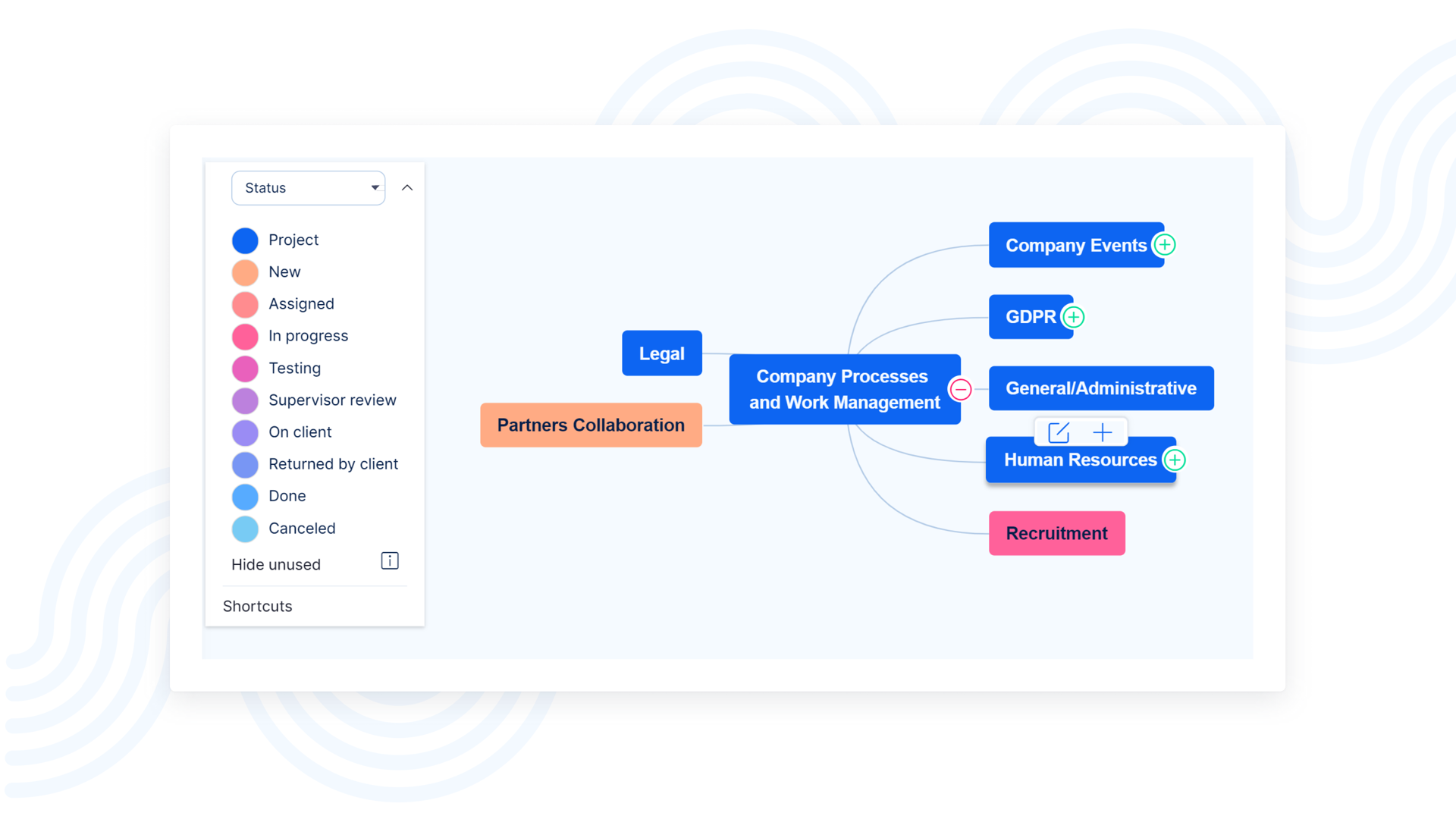 Project planning
The work breakdown structure plugin visualizes projects, tasks, and sub-tasks in a mind map-like form - showing decomposition of the work to be executed by the project team. It enables you to manage projects and tasks using easy drag & drop while having a clear visualization of the whole project.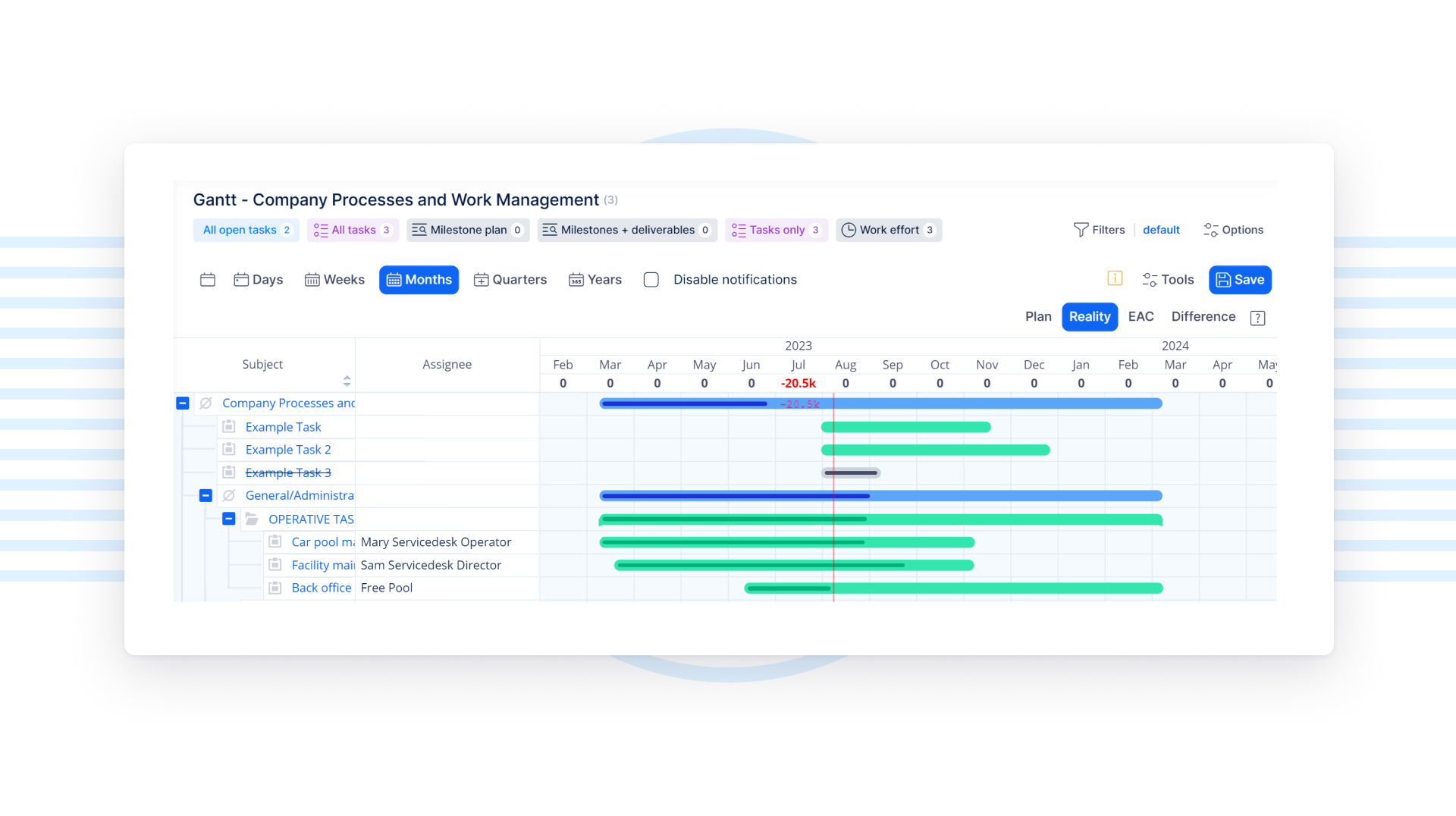 Task Tracking
See which tasks have been done, are in progress, or are overdue - so you know what tasks require your attention in order to keep pace with your project plan/schedule.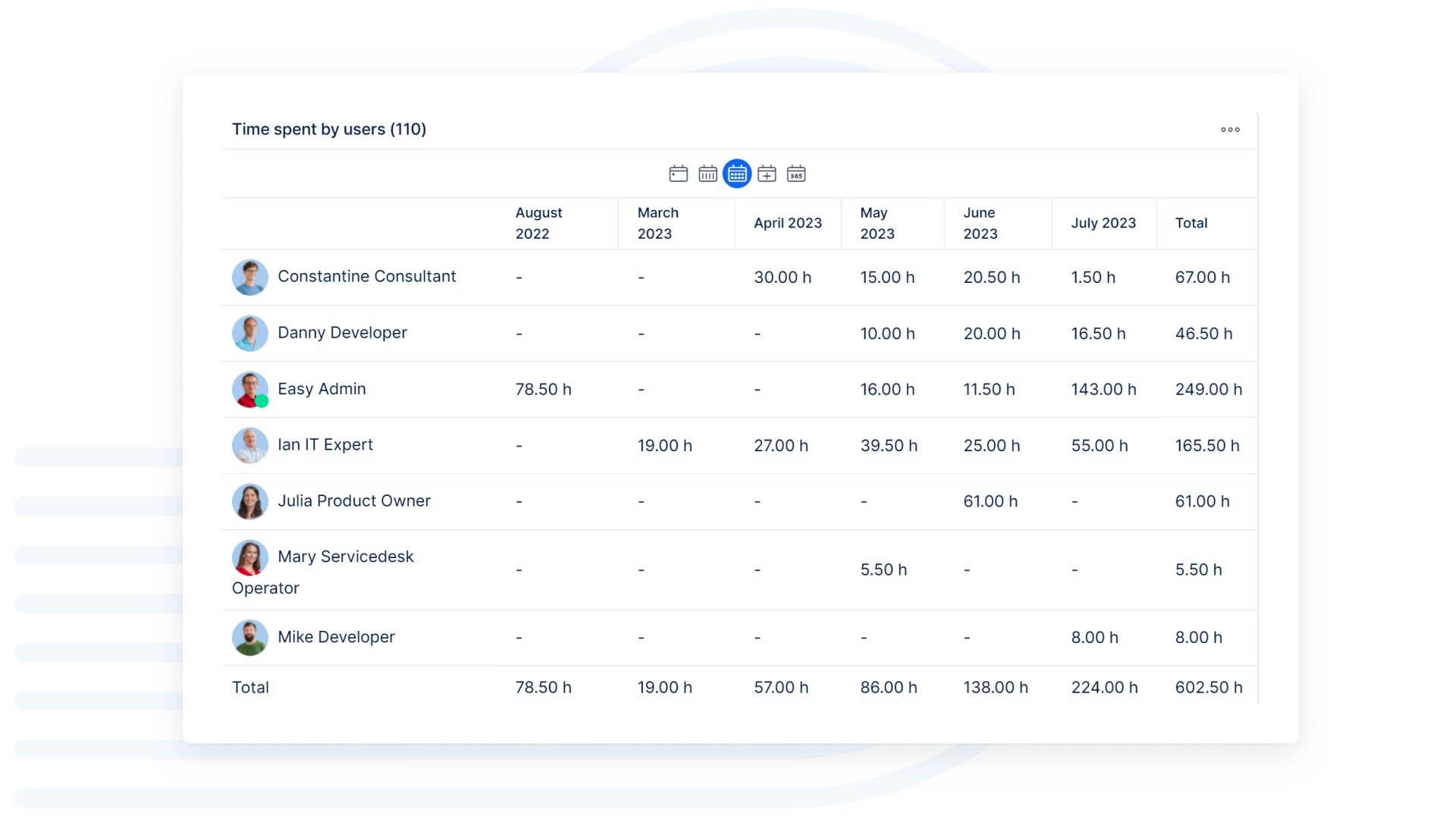 People Dashboard
People Dashboard allows you to see information about your users at a glance. Use the dashboard to view user tasks and their statuses, project membership status of users, assigned work completion, finished tasks, spent time, personal costs, and much more!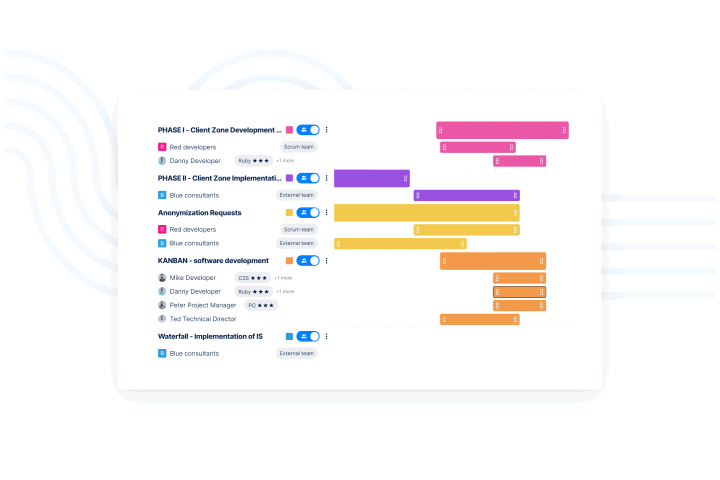 Activity reports
An activity overview (changes made on tasks) of a specific person can be found on the particular user's profile. Moreover, the global activity feed is a feature accessible from the sidebar that keeps you informed about today's activities on the selected projects.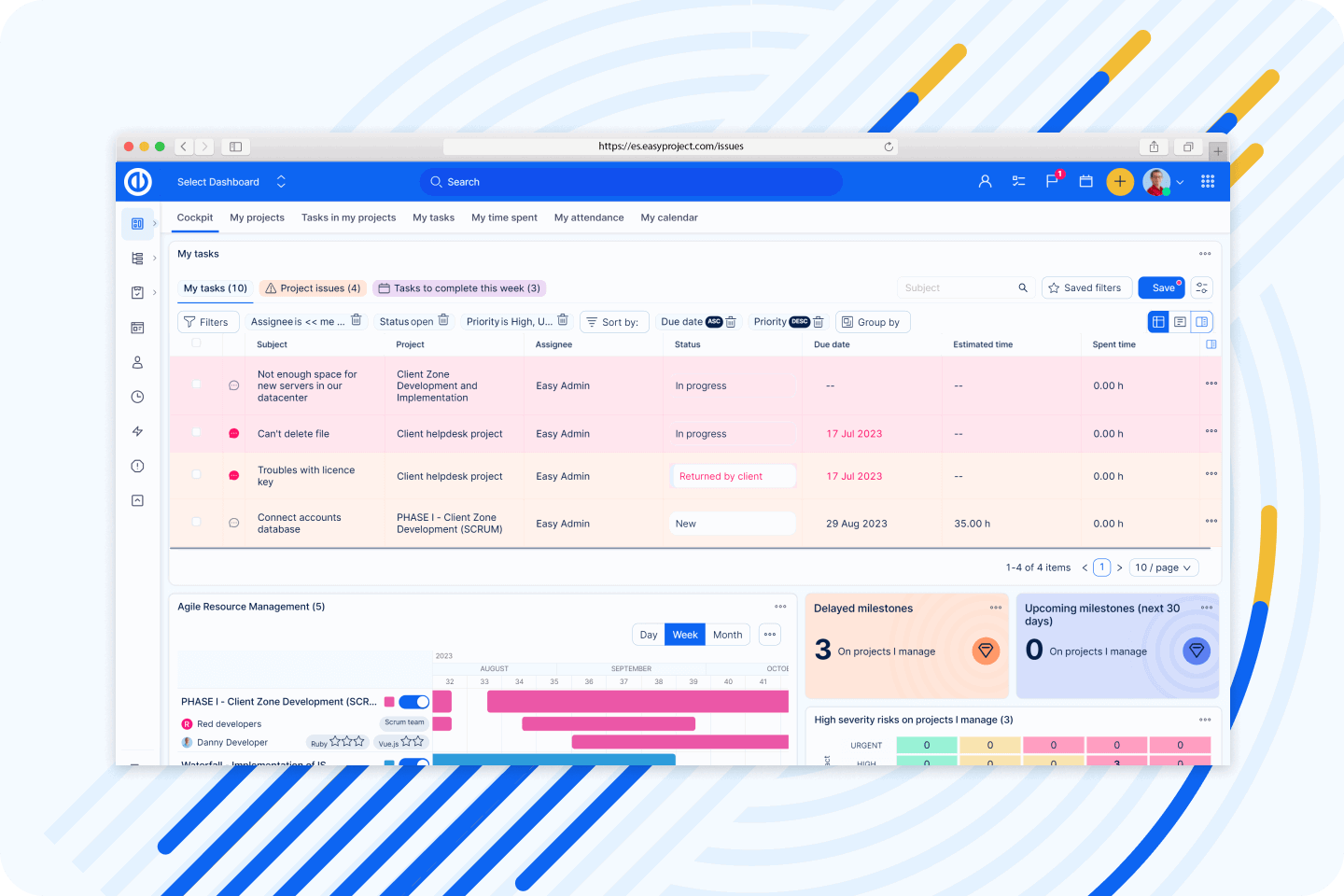 Introducing Easy Redmine for your needs
Balance your workload using Agile Resource Management
Create and update tasks in the blink of an eye with our renewed Intuitive Task Form
Save time on getting essential data with Dynamic Filters
Compatible with Redmine 5
Access to Gantt Chart, WBS, Task & Time Tracking, Kanban, SCRUM
Connect your clients and PM with B2B CRM and HelpDesk