Redmine Gantt plugin
for top level project vizualisation
The Redmine Gantt plugin makes planning and project updating easier than ever. Take your project preparation to a whole new level and join more than 300,000 users worldwide.
Compatible with Redmine 5 & Ruby on Rails 6
100% open source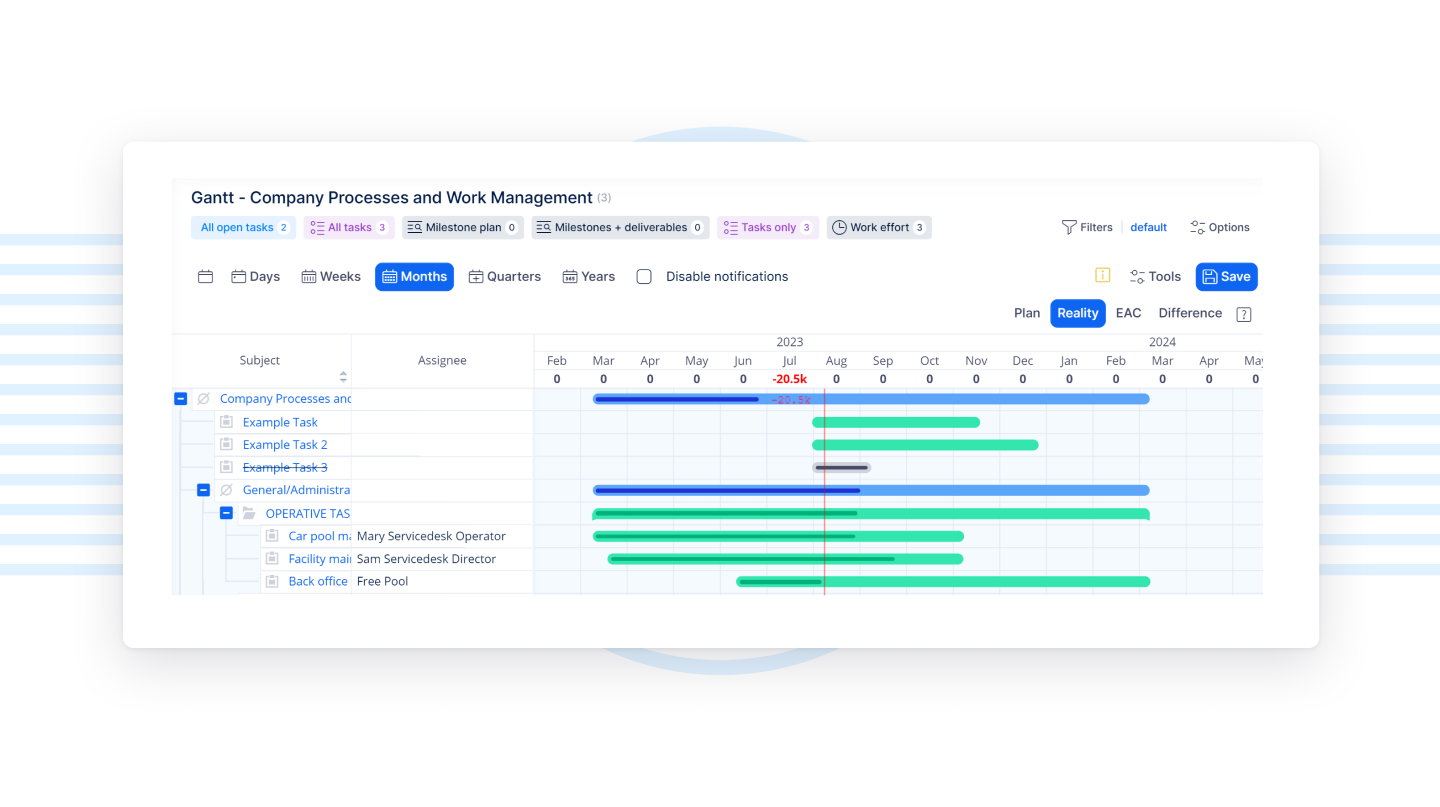 Ready to speed up your work?
Plan, adjust timing using drag & drop, create issues, versions, relations and sub-issues on the fly. All you need is the Easy Gantt plugin for Redmine.
Redmine Gantt plugin alsou includes advanced features, such as Critical Path, Baselines and Global Gantt, with drag & drop update of whole projects to make your planning even easier.
Trusted worldwide
Next level features for simpler project management
| | Redmine Gantt plugin |
| --- | --- |
| Drag & drop update of issues & versions | |
| Step back feature | |
| Different timeline views (days, weeks, months) | |
| The list of problematic issues | |
| Filters and options over Gantt | |
| Parent-child issues support | |
| Issue relations with delay | |
| Critical Path highlight | |
| Baselines (project plan snapshot) | |
| New issue & new version | |
| Global Gantt of all projects | |
| Drag & Drop of whole projects | |
| Filter delayed projects | |
| Lowest progress issues | |
| Pricing | € 499 Free |
| | Download now |
Explore the essential features of Redmine Gantt plugin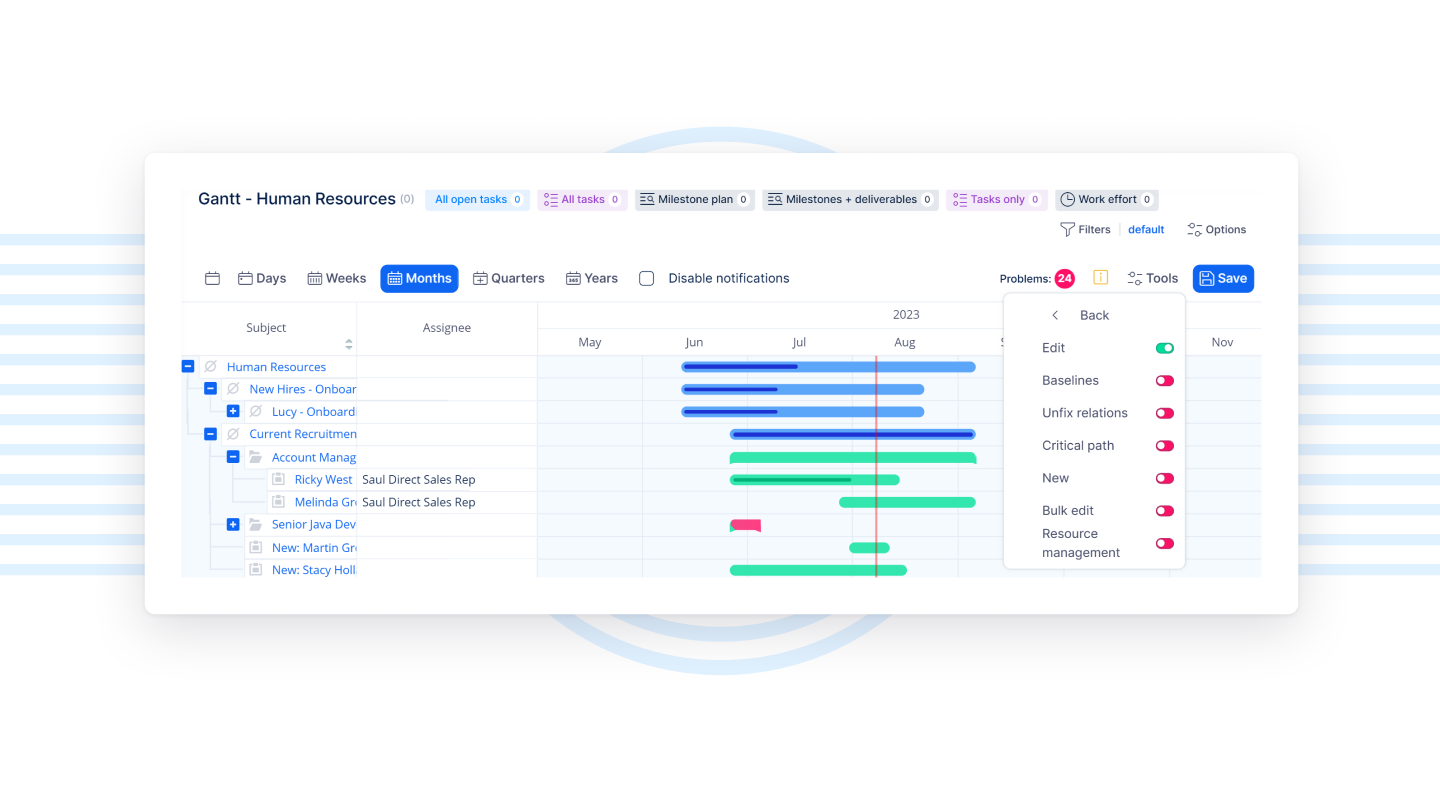 Gantt Baselines
A baseline is a project's original plan, which is visualized so you can compare it to the current one. Redmine Gantt plugin enables you to highlight the baseline plan so you always know where you stand. The baseline plan does not change when the schedule is edited. Redmine Gantt also enables you to create multiple Baselines and to work with huge projects.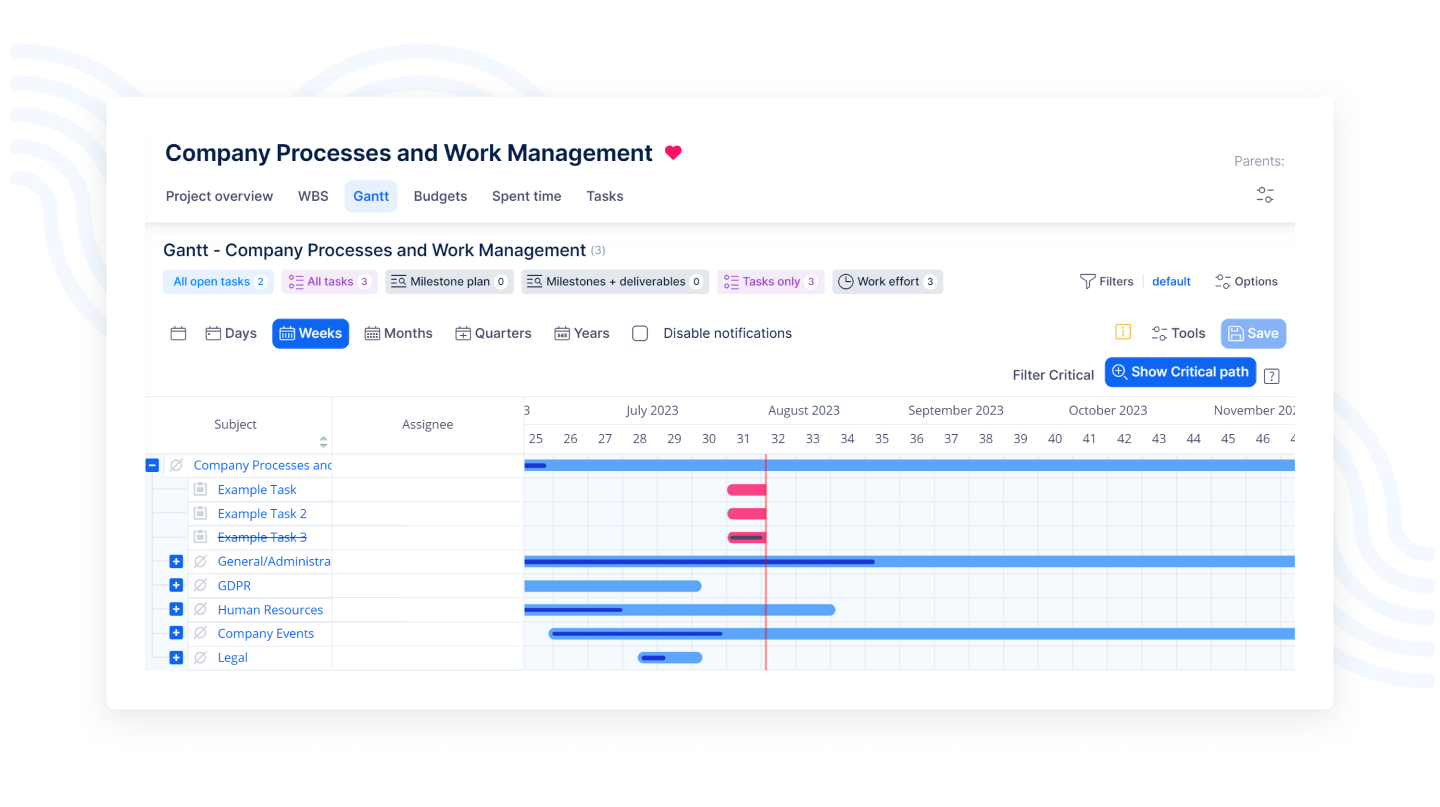 Critical Path
A critical path is a sequence of issues that cannot be delayed in order to keep your project on track. It also shows the shortest time that your project can be completed in. All you need to do is click on the "Critical Path" button and you get perfect overview of what needs to be done as soon as possible and what the next steps are.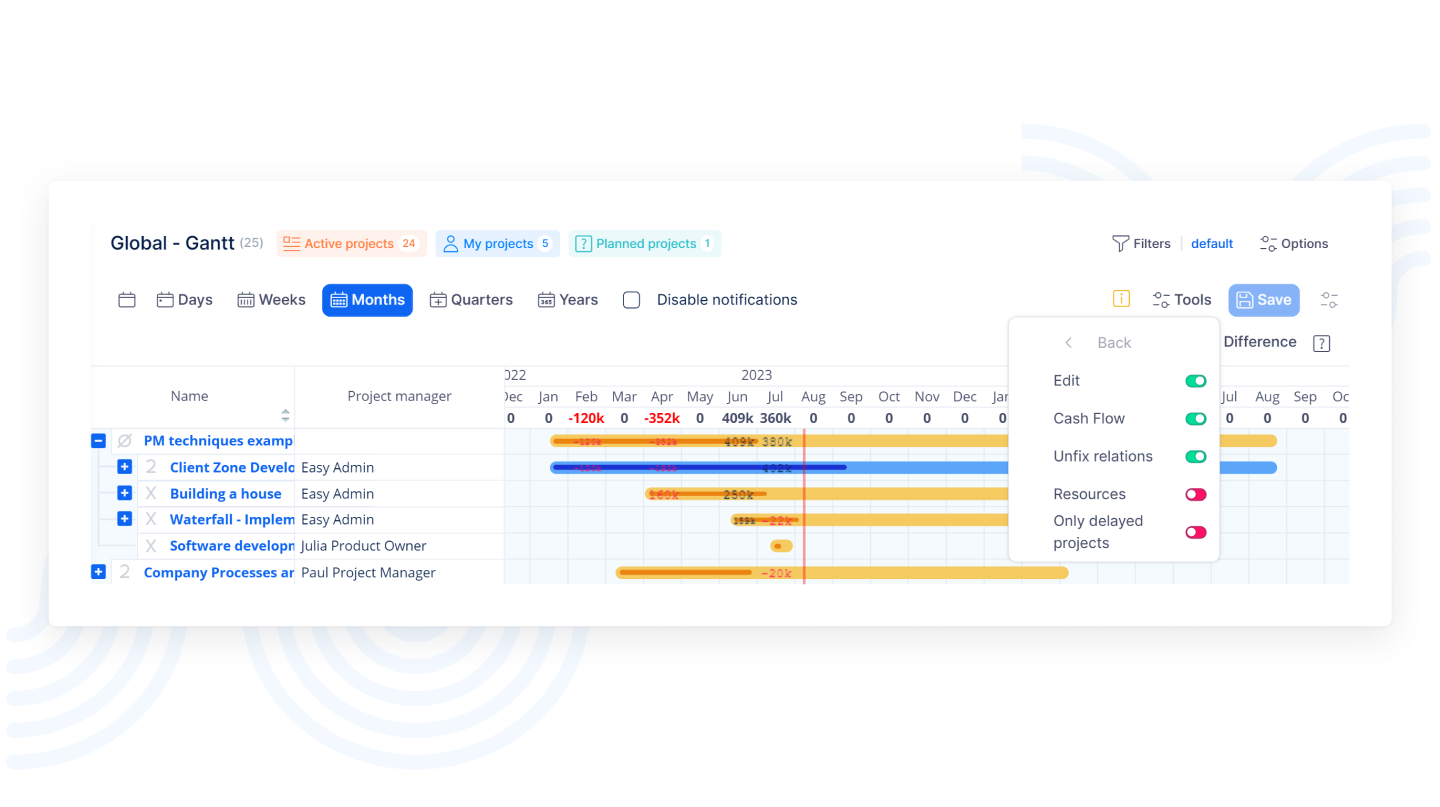 Project Portfolio Gantt
Managing your project porfolio can be easy. See your whole project in one bar and move it around using drag & drop to change the timings. Alternatively, go deeper by click on the "+" icon next to the project name to see all the issues and versions. Gantt over Projects also shows you weighted project completion, based on the real weight of the issue, and the percentage of its completion.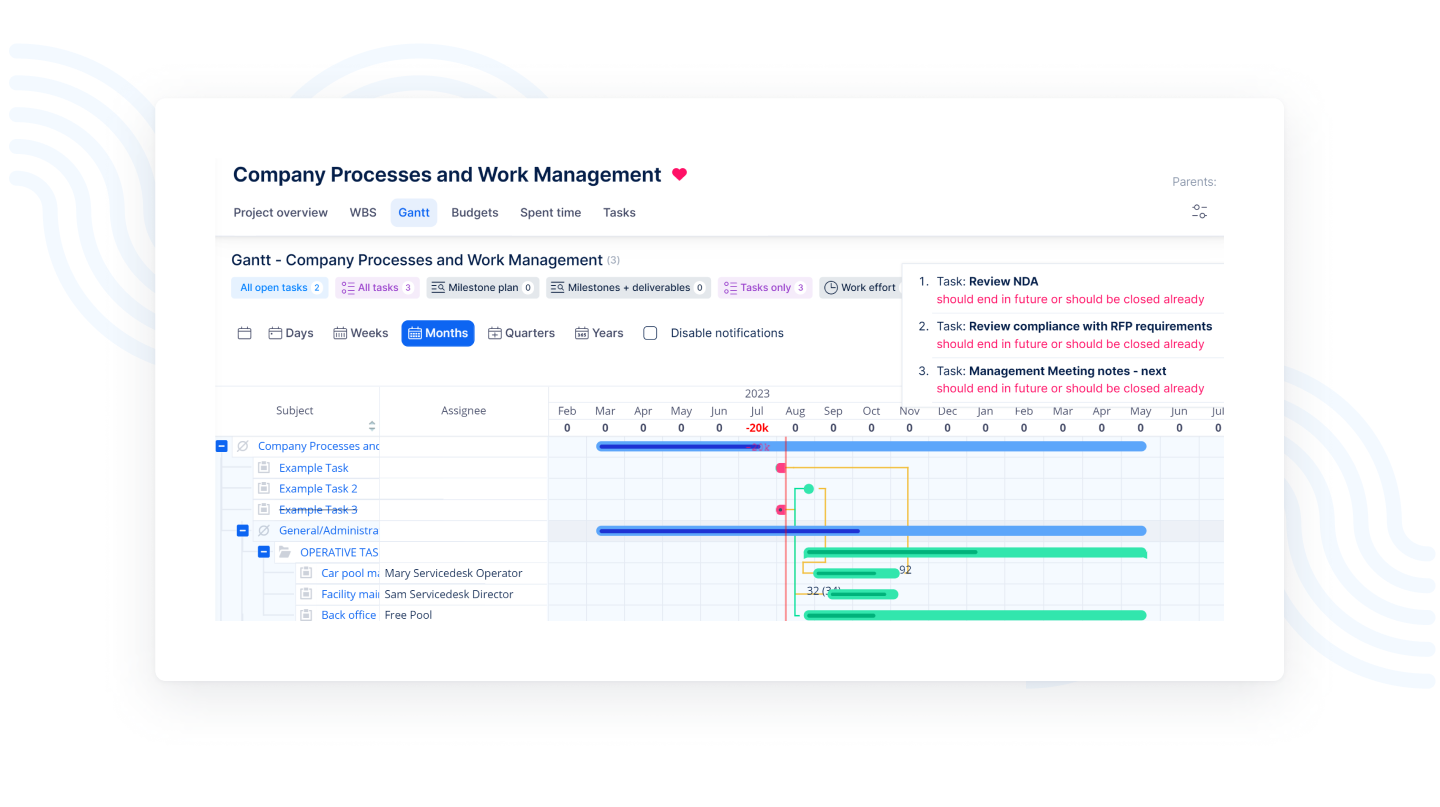 New issue and version creation
Want to create new issues or versions while planning your project? With Gantt chart you can do this by simply pressing "new " item, filling in the form and dragging your mouse in the calendar.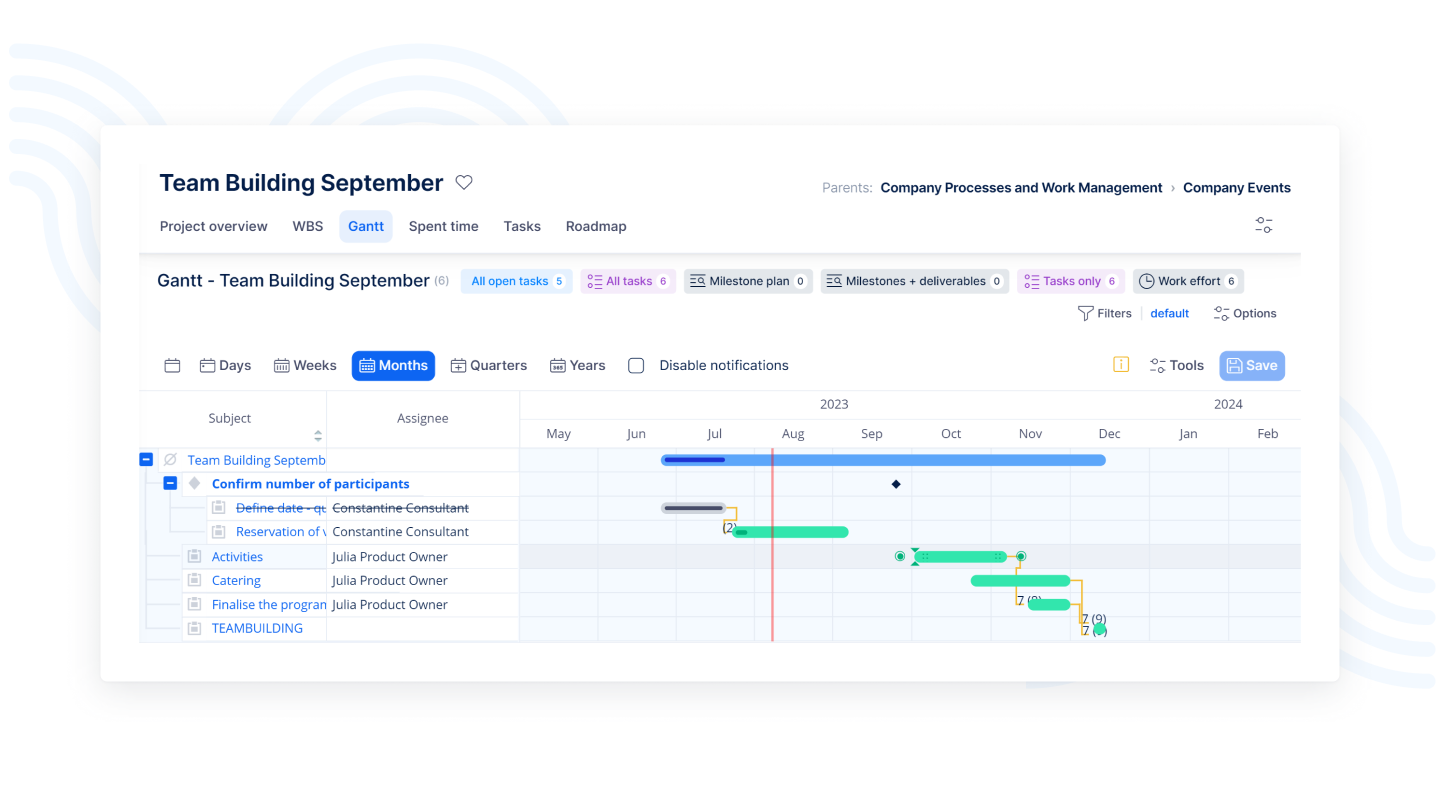 Parent-child issues visualization
With our Gantt chart your parent and child issues are always clearly visualized. Parent issues can be drilled down to display their child issues.
IPMA & PMI standards compatible
SHINE Consulting Ltd.- holder of accreditation of the Project Management Training Program "Project Management in Practice" (International Standard IPMA) and is also a member of the PMI R.E.P. Registered Education Provider. **The PMI Registered Education Provider logo is a registered mark of the Project Management Institute, Inc.
What do users say?
"Easy Redmine met our needs out of the box. The product is feature rich and the price is low compared to products with similar features. We are satisfied with the performance of the product and would not hesitate to choose it again."
"We use Easy Redmine to simplify our work in managing projects. We made a few tweaks ourselves to this Open source application but we are overall very satisfied."
Next level Gantt chart with Easy Redmine
Essentials
Easy Redmine
Complete & extensible Redmine upgrade
Easy Redmine is a complete and extensible Redmine upgrade which comes with the best plugins, features and a new mobile design. It provides more effective project management, clearer communication, a better user experience and saves you precious time. It is extensible with plugins for Resources, Agile, Finances, CRM, HelpDesk and DevOps.
Installation & upgrades of Redmine Easy Gantt Plugins
How to install any Redmine plugin – easy step by step tutorial